Football reports
08 Nov 2019
There have been strong performances on the football pitch this week.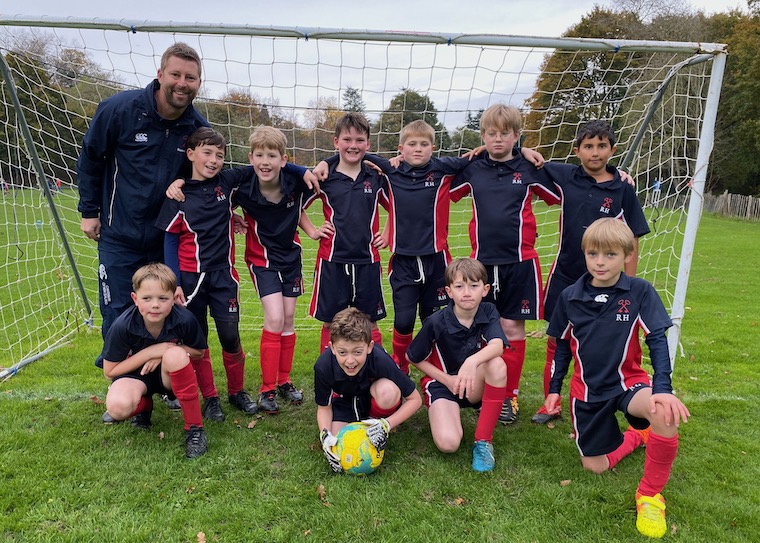 U10/11C v Hazelwood: The C team won 2-0 against a strong opposition. Max was outstanding in the midfield as was Edoardo on the left side of the field who was involved in the goals scored by Eddie. Overall, it was a strong team performance.
U10/11B vHazelwood: The match started and immediately Teddy made a brilliant tackle to stop the attack dead in its tracks. Both keepers made some dramatic saves. Bjorn made a little throw and Teddy bicycle kicked it. Right at the end of the first half, Hazelwood scored a goal from halfway which gave them the lead.
With Hazelwood 1-0 up, the second half was hard. Hazelwood scored twice more but then we scored as Zander set up a shot for Eashar who knocked it in. Using the slope well, Hazelwood scored a fourth goal but Russell House never gave up. We soon scored again after the Hazelwood goalkeeper picked up a back pass. Zander laid the free kick off to Hector who found the far netting to make the score 4-3 with 5 minutes left. We kept fighting for the equaliser right until the final whistle but we just couldn't get the ball into the net. It was a great game which could so easily have been a draw. Both teams played well and the referee did a great job.
U10/11A v Hazelwood: Hazelwood kicked off for the first half and we scored our first goal quickly. We then scored another and by half time it was 2-1. After half time we scored to make it 3-1. Then they scored to make it 3-2, and again to make the score 3-3. During the latter stages of the game, Nate shot and hit the post, but the score remained 3-3. Tommy was outstanding in defence and Reuben made some great saves as well. For future games, we need to work on communication, defending and going to the ball.
U8 v Rose Hill: The U8 team was decimated by illness and could only field a team of 4 players plus one U9 boy. They proved to be too strong for their opposition, winning 8-0. Charlie scored 4 goals and assisted in another 3! Michael and William both scored as well. All the boys were rotated through different positions.
U9A v Rose Hill & Radnor House: The U9A team played in a triangular tournament drawing their first game 1-1 with a strong Rose Hill A team and beating Radnor House A by one goal to nil. When our team played their best, they were too strong for either team. Their passing was excellent, as was their control, and their support play was also impressive. The other teams only looked like scoring when we played as individuals rather than as a team and if we can improve this aspect of our game, we will be even stronger!
U9B v Rose Hill: The U9B team won 3-1 , reflecting yet another strong performance. Ben gave the team the lead through an excellent cutback from the left and then Alex scored his first goal for the school. Christopher scored the third goal cementing the team's dominance.