Tap the magic tree
30 Jan 2020
Transition have taken special interest in trees around school this week.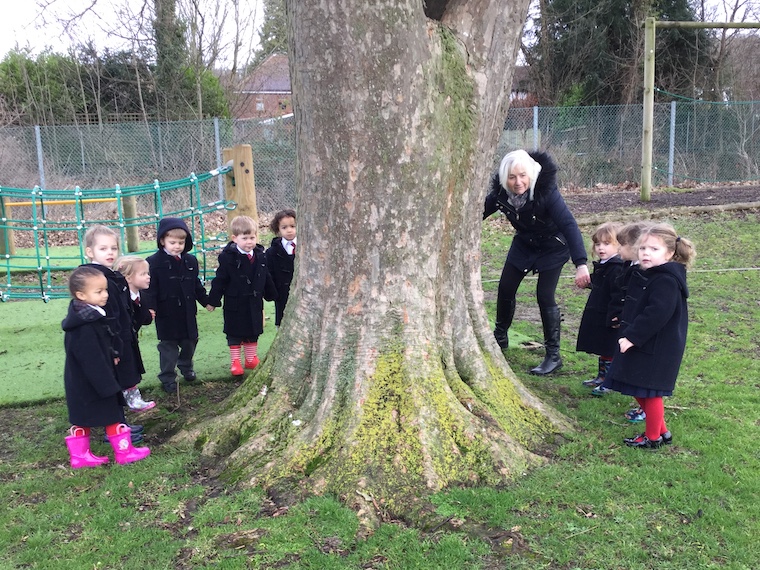 Transition have been enjoying a lovely book this week entitled Tap the Magic Tree, which illustrates the changing seasons through the life of a tree, starting with a tree with bare branches in winter. Accordingly, we have taken a special interest in the trees around our school this week, noting which trees are evergreen and which are deciduous.
At the start of the week, we seized the opportunity to wrap up warm, put on our wellies and take a slow walk down to the outdoor classroom on the paddock. Along the way, each child took a photograph on the Ipad of a particular tree that took their interest. Next, they used their observational skills and had a go at sketching their chosen tree. Even though the weather was gloomy, the sky started to clear during our walk and a beautiful band of unexpected blue sky appeared!
Once back in the warmth of the classroom, the children's artwork has developed from this experience, such that they are now painting a silhouette of a winter tree against a colourful sky. Watercolour paints have been used to depict the beautiful variations in sky colour that we see at this time of year, with the children using large brush strokes across the page, inspired by pictures of differing winter skies. I have been very impressed by the children's enthusiasm for this type of painting. Their results will look stunning and showcased in our lobby very soon!
Other wintry activities this week have included playing with ice and gradually revealing hidden items embedded in it, such as pine cones and sprigs of conifer. The children have been colouring winter clothes and dressing the alien, Lecky, in clothing appropriate to the weather in an ICT activity. Transient art has involved decorating snowflakes with coloured gemstones and creating a snowman from a variety of loose parts. Finger Gym has involved twisting and turning pipe cleaners around our small world people and peg dollies to create scarves.
Our final learning experience about Chinese New Year was to make our own Chinese dragon during PE session....no mean feat getting ten excited children under a blanket, walking in a straight line! Now that's teamwork!