The Frosty Pane
05 Feb 2020
Transition have been creating frosted window pictures using rock salt and gemstones.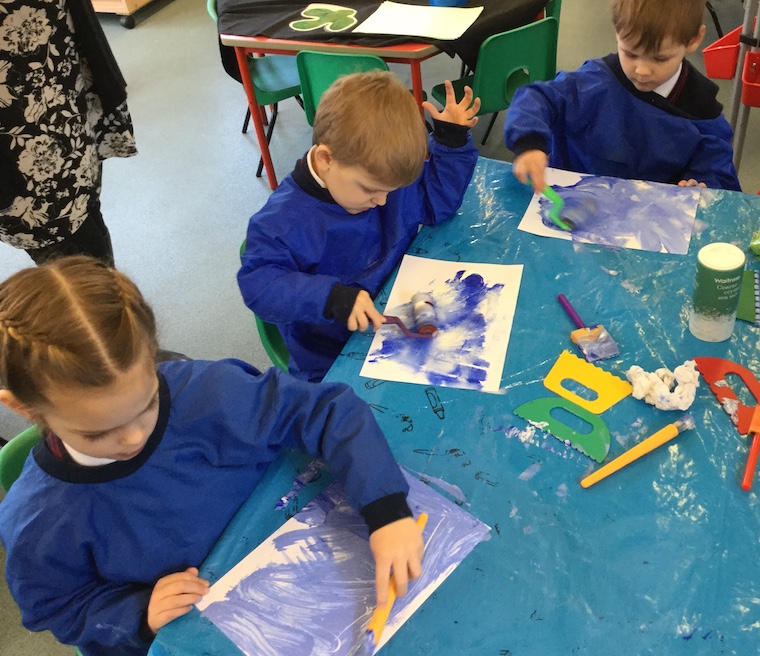 Although it has been cold, we haven't seen any frost this week, so Transition closed their eyes and used their imagination, while they listened to the poem entitled The Frosty Pane, by Evaleen Stein.
This delightful poem talks about the magical qualities of frost, with a window pane becoming 'pearly..... with a sparkling little picture traced in lines of shining white'. Inspired by this, the children made their own frosted window pictures using a variety of media and materials which have included rock salt and 'diamond' gemstones to depict ice. I must say that they remind me of my car windscreen after a frosty night!
Our new theme of The Colour Wheel has allowed us to think about how the blue of our winter hats and our frosted panes makes us feel cold. By making their own colour wheels, the children have also learned how there are different shades of each colour.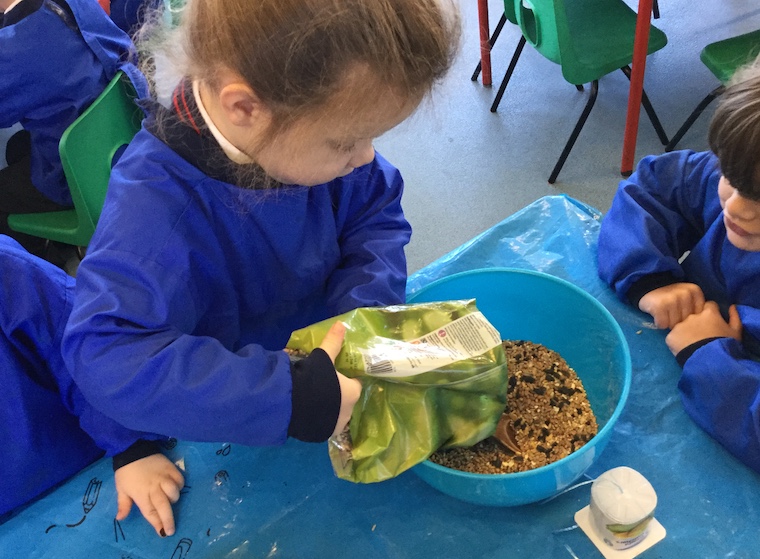 We have made birdseed cake feeders this week too, with the children following instructions to add different numbers of spoonfuls of ingredients and mixing and ladling cake into their pots. I wonder if they can remember the different ingredients? One ingredient had the most unpleasant smell, but we learned that it was something that helped keep the birds' feathers shiny and waterproof, whilst keeping our cake ingredients together!
Finger Gym experiences have kept busy fingers and wrists moving by spooning quantities of rice and colourful orange and green lentils into tiny cups and teapots, while trying to avoid the floor!
Our winter tree silhouettes are now complete and forming an eye-catching display in the lobby. The children have really captured the differing colours of wintry skies beautifully, so much so that we just had to show all our paintings in Pre-Prep Assembly on Wednesday. As well as performing our Frost is on the roof song to everyone (with one child confidently singing a solo), we also wore our winter hats. So be warned everyone... we might be in for another cold spell and even something white and fluffy!