It's been a supertato week!
07 Feb 2020
Can you guess this week's theme in Robins? Take a look.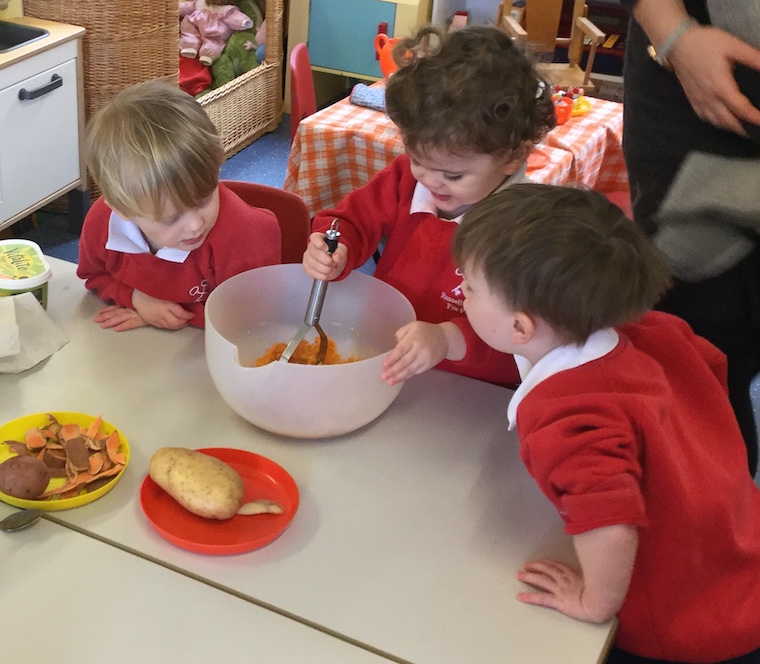 Our topic this week has been Supertato and the children thoroughly engaged with this story - as did Mrs Scarsi and I! Our Robins enjoyed learning about different types of potato and we used white potatoes and sweet potatoes in our cooking activities.
We explored different textures as the white potatoes felt quite smooth, unlike the sweet potatoes which felt quite bumpy. Lots of mathematical language was used, including words such as 'bigger than' and 'smaller than' by the children. We made mashed potato and had great fun mashing them. On Thursday, we made yummy roast potatoes for our snack, which we all thoroughly enjoyed, as they were crispy and golden.
Following on from our story, something had escaped from the icy depths of the freezer. It was small, green and looking for BIG trouble. Well of course, it was the Evil Pea! The children had so much fun using their detective skills to capture the cheeky pea and they found the Wanted posters useful too. We are looking forward to sharing our Supertato pictures with all our Prep-Prep friends next week for our assembly.
Our Robins enjoyed taking their pushchairs and babies for a walk around the school grounds. We parked the pushchairs at the playground, while we played on the Pre-Prep equipment. The babies started to cry, so we took them back to class for a little sleep.
The children have been learning about the days of the week while singing our special song. Perhaps you could ask them and see if they remember? It is such a good way to promote communication and language as we use actions too. We use language such as, yesterday was Tuesday, today is Wednesday, tomorrow will be…Thursday.
This week the children tried some yummy pancakes for their snacks, along with toast, bread and butter and a selection of fruit. We saw some lovely manners and our Robins are always so helpful as they like to wipe the table and set-up for snack - great problem-solving skills.
In Music, we used a variety of instruments and some of the children helped Mrs Bannister play the ukulele. It was great fun watching the dancing flamingos as we carefully tapped our hands to rhythm.
We finished the week with a nice walk to see Bobbin the pony and a magical walk through the wishing tree. Our Robins were very careful, as some beautiful spring flowers had popped up to say Hello.