Netball tournament success
26 Feb 2020
Our U11 netballers came second to win silver medals at a recent tournament.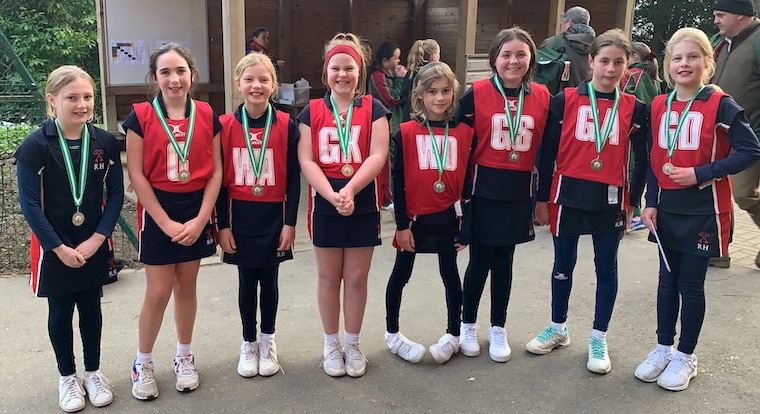 Just before half term, our Under 11 Netball team went to St Michael's to play in a netball tournament. In our first game, the team played very well against Hazelwood and won 12-1. We then had a little wait before our next game. When we were on again, we played Kent College and won 3-1. In the third match, we played Sevenoaks Prep and won 4-1. After that we played Derwent Lodge and won 7-5, which meant that we won our group and were through to the semi finals.
We played as brilliantly as we could against Hilden Grange and we won 5-1! This meant that we were through to the finals.
We played against Derwent Lodge again, but this time in the sports hall. The match was really tough and although we played very well, this time Derwent Lodge was the better team. This meant we finished second and our team were so happy to win the silver medal.
Thank you to St Michael's for hosting the tournament, and thank you Mrs Curling and Miss Smith for taking us. Overall the day was great and we came home with smiles on our faces!
Sevenoaks School Tournament
The following day, the U11 Netball team went to Sevenoaks School for our second netball tournament of the week. Our first match was against Blackheath Prep, which we won 8-4. Then we faced our hardest match against Wally Hall, which we unfortunately lost. Our third match was against The Granville, which was pretty close, but in the end we lost 11-7. After that, we played our last match against Holmewood House, which again was close throughout the match and the final score was 6-12. It was then time for the results and we finished in 4th place. We all played really well. Well done, girls!
Reports by Anna & Lucy