Sports Reports - Rugby
28 Feb 2020
Catch up with this week's rugby news.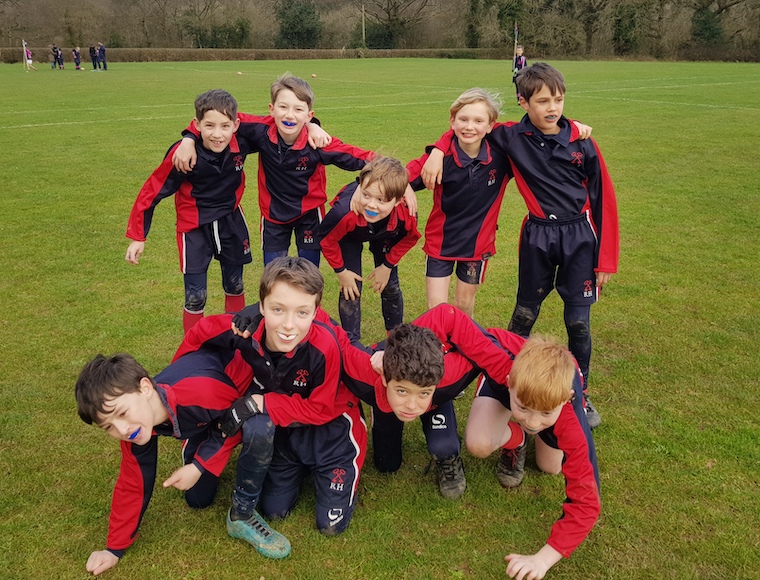 U10 v Hazelwood: Hazlewood started with the ball. They were strong and didn't get tackled and scored the first try within minutes. Russell House restarted, Hazelwood made some good tackles but Russell House had some good runners such as Dylan, Ben, Alex and both Maxs. We were taken into touch but luckily it was a high tackle so kept the ball. We fought back and there was strong rucking from Zander. Wide balls were passed out by Hector to Dylan who was in space and he had a clear run to the try line. Hazelwood restarted and played some good rugby. Tackling, rucking and mauling, Hazelwood finally broke through and scored their second try. We got a few turnovers from mauls and passed out to Max and he made a very good run from the 25m line and that's when Russell House got their second try. Hazelwood restarted and they ran straight through the fence which gave them the third try.
At half time it was 3-2 to Hazelwood. Mr Trigger told us that "tackling is what you need to work on". After half time Russell House restarted. We had a good pass, it was an S1 (Skip 1) to Ben who ran straight through their defence to score our 3rd try. But Hazelwood came straight back, running through our defence to score a try of their own. After that the game got more physical with more rucking, mauling and tackling by James, Zander, Hector and Max. There was a brilliant pass out to Dylan which gave us our 4th and final try. After that things got even more physical with Edo making a brilliant tackle. Hazelwood went on to score 10 tries in total and were about to score their 11th but Zander chased down their player and made the tackle into touch. We were pleased with elements of our game but need to make sure we all tackle better next time. Final score: Hazelwood 10 Russell House 4. By Zander
U9A v Hazelwood: After a short warm up our match against Hazlewood began. As captain I started the match with the ball. Everyone played really well and at half time we were drawing 4-4. We started the next half and we scored 2 tries and Hazlewood scored 1 and it was very close. Our tackling was very good but there were a couple of penalties for both teams. We won 6-5. By Ben
U11 v Hazelwood: The first half was dominated by a very disciplined and organised Hazlewood team. We were a little intimidated from the start because they had some very big players. They ran onto the ball with pace and were very strong moving forward. By the end of the first half Hazlewood had scored five tries and Russell House didn't score. After a rousing half-time team talk by Mr Dawes, Russell House put in a much stronger second half. Hazelwood scored two early tries but Russell House came back strong, with Finn scoring a great try after a diagonal pass from Tristan. Teddy then used his immense power to push through the defence for a second try. The match ended Hazlewood 7 - Russell House 2.​​​​​​​