Our owl babies
16 Sep 2022
What a fabulous week we have had with the children learning all about owls and other nocturnal animals from our story Owl Babies.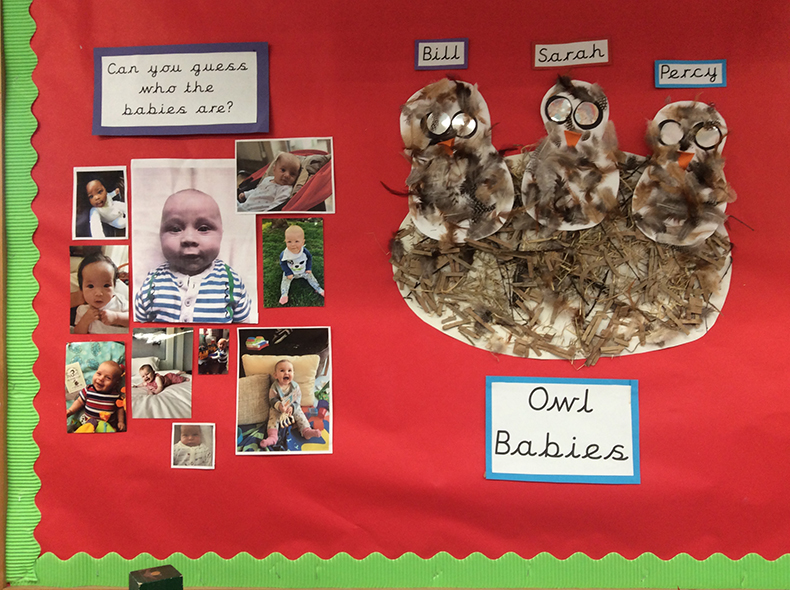 We started the week by exploring lots of natural materials to create a nest for the owl babies and making the baby owls for our classroom display. As you can see from the photo, we have added some gorgeous baby photos of all the Nursery children and we have had lots of fun trying to guess who is who!
Natural materials and wooden blocks were used to make homes for the woodland animals and involved some beautiful imaginative play with lots of critical thinking from the children when they shared their ideas and suggestions. The children made owl babies with pine cones, filling them with soft cotton wool and adding feather wings and googly eyes. They also made some beautiful pictures of an owl on a branch just like in our story and carefully added leaves to their pictures too. We were delighted with the wonderful pictures the children drew of the owls in their Special Books, showing creativity and imagination in their drawings.
As well as animal homes, the children have been building houses with the Duplo bricks to create some fantastic homes for the families to live in by talking about the different rooms in their houses and who lives with them at home.
Everyone has been enjoying playing and learning in the garden whilst exploring the water play area, sandpit and using the gutters for the vehicles. Great teamwork was shown when the children made a long track to balance along using the wooden planks. Inside Nursery, the children have been using their fine motor skills to use the screwdrivers and drills to build racing cars and the brushes and scrapers in the sand to make marks and patterns. Colourful buttons were carefully placed onto pictures of crowns for the Queen and new King, creating some amazing patterns in red, white and blue.
The children were super listeners when we had a practice fire drill at school, keeping very quiet and standing in a line together. We then went to the paddock where the children made a campfire and retold the story of Owl Babies by flying around the garden and sitting on a branch!
We hope you all enjoy the story sacks which the children are bringing home this week and Teddington Bear has started his sleepovers, so he will be coming home to you very soon.