My family and pets
25 Nov 2022
Our focus for this week has been my family. All the children in Transition enjoy sharing their weekly news and pictures from their Home School Journals.
We created our focus around this and encouraged the children to bring in photographs of their families.
This was a great speaking and listening activity as it encouraged the class to tell us all about their family. Everybody did a great job at describing who is in their family and this was even extended to their pets. We all shared our pictures and were encouraged to ask questions about what we could see. We noticed that everyone had differences in their families. We celebrated diversity amongst our families at Russell House. By recognising the similarities and differences within our local community, it allows us to become respectfully curious about others.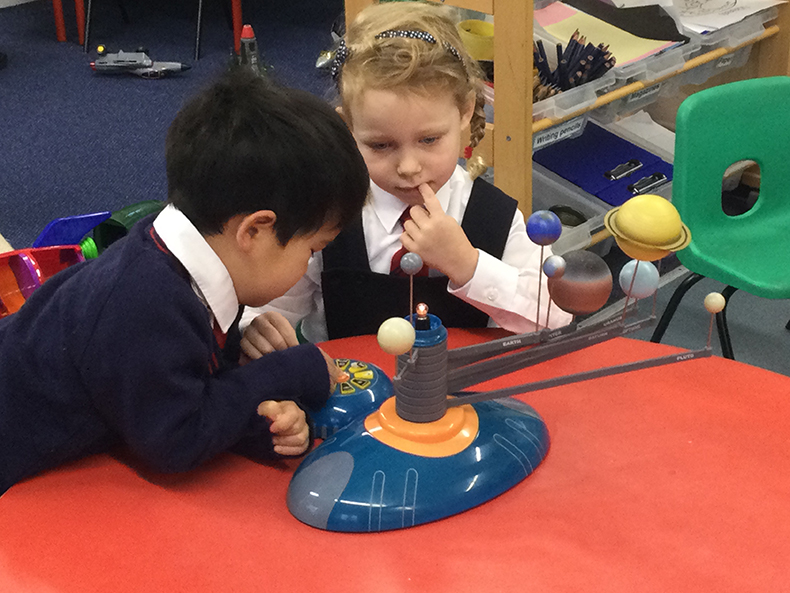 As our fascination for space and planets continues to grow we have delved deeper into space. We have loved using the rockets and Thunderbirds. We also read Whatever Next by Jill Murphy which is a fantastic story about a bear who goes into space in his rocket made out of a cardboard box. Transition also wanted to venture into space. We pretended to be astronauts and sat in our rockets. Once we got to the moon we had a picnic before returning back to our class and going out to play. We have a bunch of future astronauts in the making! We also enjoyed exploring the working planetarium which told us many facts about the solar system.
The queen quacked whilst waiting in the quiet queue. Qu was our letter sound this week. We came up with a bunch of super suggestions such as quiz, quickly, question and quack!
Using our fingers and paint, we created four different trees which represent the seasons in the year. During this activity I asked lots of questions and Transition demonstrated great critical thinking skills as they were able to explain why we created the trees in different colours.