Sport report: Hockey
16 Nov 2023
Reports on recent hockey games, as written by Russell House players.
U9A Tournament at Lingfield College:
There were six teams in the A-team tournament and we had to play every team. First we played Cumnor House and we drew 0-0. We then played Burgess Hill and we managed to score an impressive 5 goals, winning 5-0. Next up were Lingfield College and we won that match 2-0. We knew that we had a really good chance of winning if we kept up the excellent hockey, which was really exciting. Our next match was against Rose Hill, who were the reigning champions from 2022. We were delighted to win that match 1-0.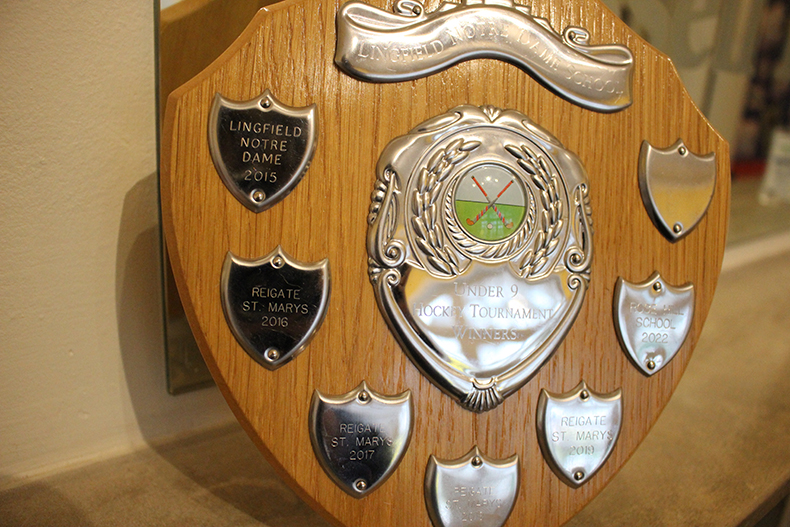 Finally, we played Micklefield and despite conceding our first goal of the tournament, we managed to win 2-1, which meant that we were undefeated and we were crowned the overall winners of the tournament. An outstanding performance by the Russell House U9A hockey team. Well done girls!
Jessica
U8/9B V Caterham Prep:
It was 12-2 to us. We played Caterham prep. I think we played really well. I scored 5 goals and Imagen scored 7.
It was so rainy!
Alba
U8/9A V Caterham Prep: The match was good. We lost 3-2. Bluebell and Isabella scored. Later we had match tea. Lucy
U8/9C V Caterham Prep: The score ended up as 6-3 to Caterham. Evie scored the first goal, I scored the second goal and Jessie scored the third. We were good at running with the ball, but now we need to spread out a bit more so that we can pass to each other. Caitlin