Miles of Smiles!
23 Sep 2021
Look what's hanging on our washing line!
It has been a very smiley week in Transition, starting with school photographs on Monday morning, when everyone looked and smiled their very best. This was followed by Open Morning, when the children were super ambassadors for the school, as we showcased our class.
Later in the week we all thoroughly enjoyed Modern Language Day. Plenty of smiles ensued when we saw one another dressed up and spied the delicious international food for us to sample!
Many thanks to all our lovely parents for helping to make this such an exciting morning for the children and for contributing such a fabulous array of food.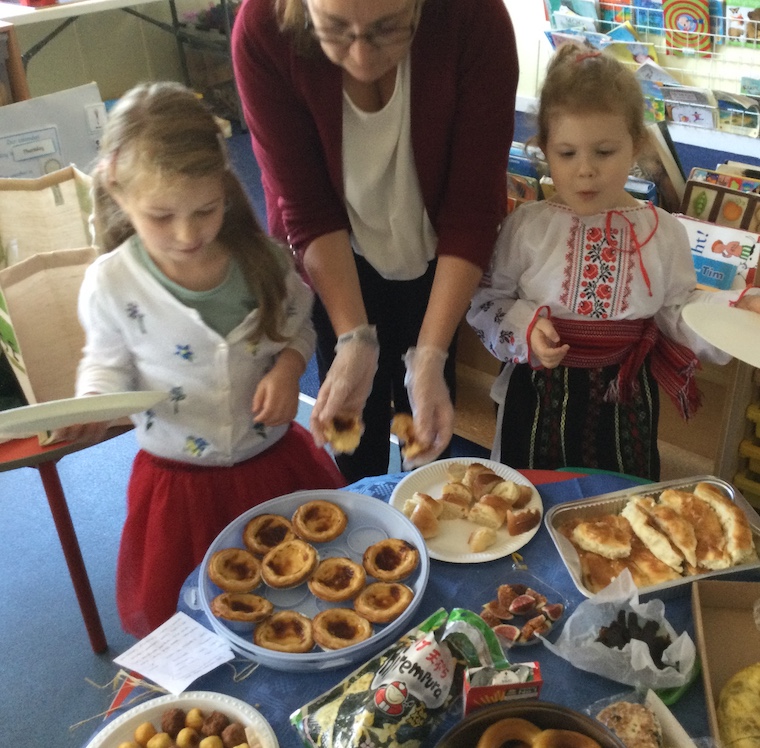 The children have experienced Spanish tortilla, Portuguese Pastel de Nata, savoury and sweet Moldovan Placinte, South African Biltong, German Brezel and Lebruchen, Spanish Albondigas/Papas Relleras (meatballs and potatoes), Spanish olives, Italian grissini, and crispbreads, Welsh cakes, Dutch waffles, a variety of cheeses from around the world, fig, pomegranate, French brioche and Japanese Pocky sticks and tempura seaweed. Apologies if I have missed anything.....the variety was incredible! It was super to see the children trying new foods and coming back for more!
With one member of the class telling us about a lovely weekend at the seaside visiting relatives and then showing us her seaside collage, we were inspired to make our very own 'seaside in a jar'. The children loved adding sand, shells, shiny sequins and pebbles to their jars. If you look closely enough, you might even see a piece of fishing net and some pirates' treasure!
It has been fascinating to introduce the class to the wonders contained in non-fiction books this week. We have all been learning about new sea creatures in Blue Planet II and pretending that we are deep sea divers. The children have even had a go at wearing flippers, which has helped make our under-the-sea water tray carry new meaning.
Finger Gym involved the children using the hammers and pins with Tap-a-shape. They have strengthened their wrist movements by printing with the stampers and ink pads.
We have been using our senses to smell sprigs of lavender and some children stripped the dried lavender flowers from their stalks. It was lovely that many children recognised the smell and the flowers from lavender in their gardens at home.
Taking our physical education lesson outside was great fun and allowed the children to gain skills and confidence before our very eyes. Climbing, scrambling, balancing and jumping skills all came on in leaps and bounds! We had lots of laughter when we pretended to be washing hanging on a washing line!
This week's letter sound is 'g', so we just had to listen to water as it gurgled down our classroom sink! Ideas for words included go, grapes, girls, gorilla, Goldilocks, gum, green, grass, Grandma, Gruffalo and girls. I hope the smiles and lovely, warm sunshine continue through the weekend!