Set for blast off
30 Sep 2021
At their drama workshop this week, Form 1 counted down to blast into space.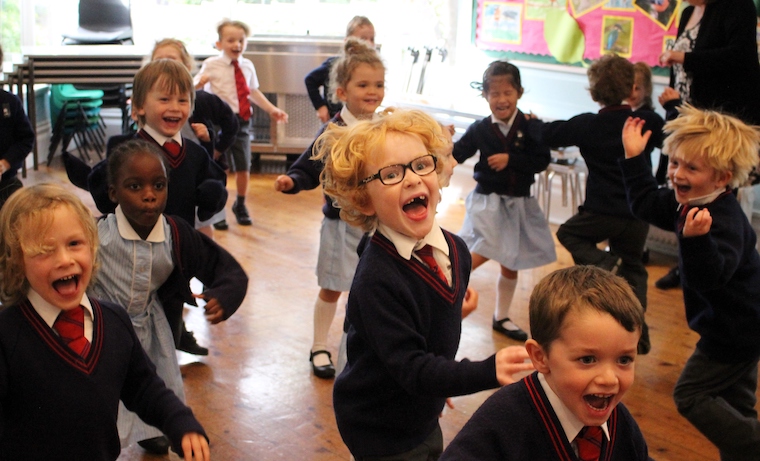 Our discussions about firefighters and how they help us led the children to talk all about what they think actually firefighters do which, of course, included the inevitable 'rescuing cats up trees'. However, they were fascinated to learn about all the other tasks that firefighters might be called upon to carry out.
As part of their work this week, they have made a book about Floppy the Hero (which involves a fire in a barn), drawn and written about firefighters, searched the room to find matching fire pictures, and then looked closely around our room to see things connected with fires, such as our fire exit and fire extinguisher.
Also this week, the children had a great time taking part in a drama workshop which involved acting, dancing and playing games based around a space adventure. They got ready to blast off into space and counted backwards to zero. They then learned a poem called The man on the moon. As you can see, the children had lots of fun!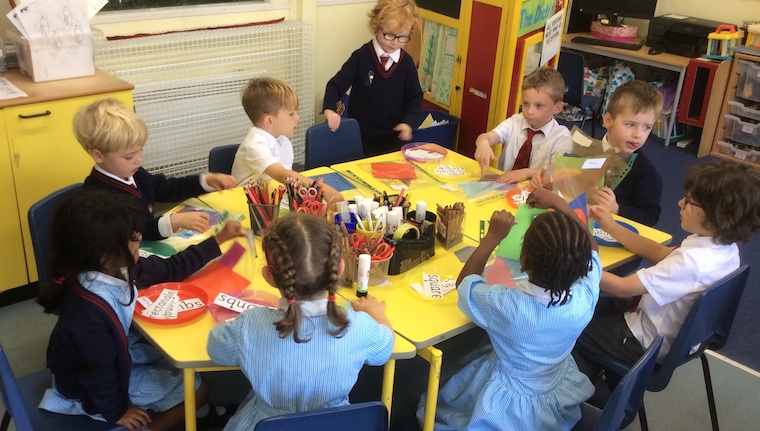 The children have also been learning all about shapes by making a wonderful mobile. By touching and doing things with shapes, the children learn so much more than if I just told them about shapes. They had to choose five different shapes in five different colours, put the correct word on each shape by using the initial letter of each word to help and then join the shapes in five different ways - I could almost hear their brains ticking over during this task. They were terribly proud of their completed mobiles which now adorn the classroom. They also took a trip around the school, armed with clipboards and lists, hunting for shapes and ticking them off their lists.
While revising letter sounds, we are now talking about the names of letters too. When making a collage of their initials, we took the opportunity to firstly help the children work out what their initials were and also used the name, as well as sound, of their initials. The result of their careful work is absolutely lovely and, just like our mobiles, will soon be adorning the walls of our classroom.
I just had to add a photo of the children playing in cardboard boxes, which are a constant source of wonderful imaginative play. The language they use, the ideas they think of and the great fun they have, prove that it's often the most simple things in life that can give the most pleasure for little ones (and grown ups!).
Finally, last Friday (too late for last week's bulletin) was an exciting day for the children when they met their 'buddies' from Form 7. Although the children know they can always turn to an older child for help or a kind word of encouragement, they were formally introduced to their own special person who will be their particular 'buddy' for the rest of the year. They shook hands and got to know a bit about each other as they sat down together. It seems like only yesterday that the 'big' children were in Form 1. Time really does fly and I can promise that before you know it, it will be your children shaking hands and making friends with our little ones.