Match reports: Hockey
15 Oct 2021
Catch up with reports from hockey matches, a tournament and the IAPS qalifiers.
U11 IAPS Regional Hockey Qualifiers at Haileybury School: We played in the IAPS Hockey tournament and were in pool 2 out of four. We drew our first match 0-0. The opposition was tough, so we were happy to draw. Scarlett, our goalkeeper, did some really good saves. Then we played St Faith's who were a strong team, and we lost 5-0. Ella and Ella were in defence and had to work really hard. After this match, we were a bit disheartened but played better in the third match against Beechwood Park. We ended up using the wings and not so much the middle. We then played Chigwell Junior in our last match before lunch. Charlotte and Madison did well driving up the pitch and had some good passes. In the final match, we played a lot better against St Pirans. Well done to everyone who participated! Martha
U11 v St Michael's: Everyone played very well, and we had an enjoyable afternoon. Thanks to our excellent, supportive team we won the match with a final score of 15-0. There were many goals scored by Martha, Ella, Charlotte and Annabel. Megan was player of the match because of her excellent work. Well done Russell House! Varsha
U9 v St Michael's: We started well, with Georgina and Bella running and getting the ball. Each nearly scored, but St Michael's had already scored two. The game was so much fun. I was captain and Georgina was player of the match. We tried our hardest and made them work hard. Although they won, we remain confident for the next game. Isla
U8A v St Michael's: In our second hockey match of the season, we all did very well making lots of tackles and trying hard to space out. Georgie made lots of runs and Sophie and Isla were great at tackling. We were so close to scoring on many occasions, and it was such an exciting match. St Michael's scored two goals in the first quarter and we played very well to hold the score for the rest of the match. Elizabeth
U8B v St Michael's: Everyone played really well and the final score was 1-1. Hermione scored our goal and unfortunately the other goal was an own goal! We all enjoyed the game and the match tea and are proud of how well we played. Isabella
U9 v Hazelwood: This match was a great achievement, with five winning goals from Russell House, scored by Mia, Isla, Annabella, Isabella and Georgina. The players of the match were Mia, Isabella and Isla. The best moment of the match was when Isla took the ball from our defending D and dribbled all the way to our attacking D and then scored! Overall, we had a great match.
U10 Hockey Tournament at Rose Hill: The U10 played a brilliant tournament at Rose Hill. Our fist game was against St Michael's which unfortunately we lost. Our next opponent was Rose Hill and we all played our best and scored lots of goals and came out with a win, but it was a tight game. Our final match was very close in the first half. Ella and Ella did some brilliant passes and goals, but in the second half our opponents came out brilliantly and won the match. We came third overall and had lots of fun. Madison
U11 v Caterham Prep: Megan was brilliant in defence and Martha and Charlotte were very close to getting a goal. By half-time the score was 0-3. In the second half we played a lot better and didn't concede any goals. We all worked very hard and played very well. Well done to our Player of the Match, Martha. Charlotte
U10A v Caterham Prep: The final score was 3-1 to us, with Ella M, Madison and Eva scoring our goals. Nicole and Emily were very good at saving goals. Connie, Madison and Lexi were good at tackling. We all had a really good time and were very pleased with our win. The player of the match was Eva. Well done to everybody and an excellent game for Russell House. Mevna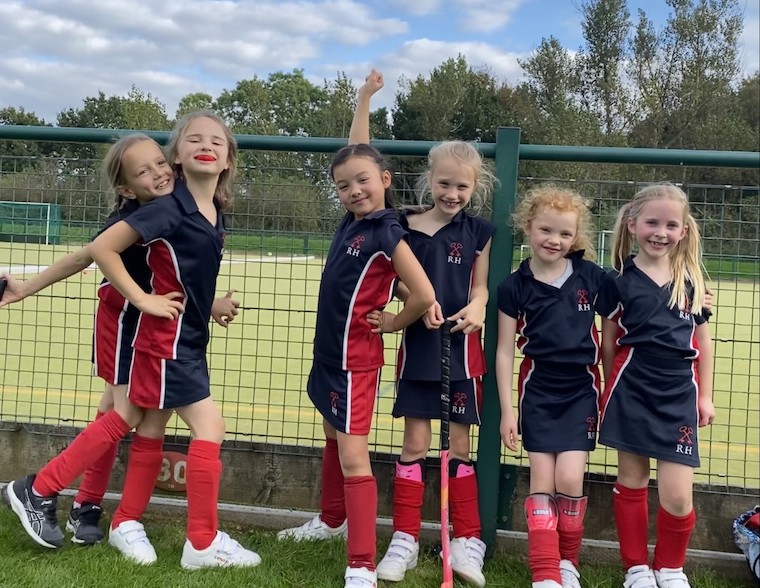 U8A v Derwent Lodge: We were very excited for our hockey match against Derwent Lodge. All the girls played very well. Georgia got the first goal quite quickly and a few minutes later Sophie scored another. At half time the score was 2-1 to Russell House. In the second half Georgie managed to get a goal which made the final score 3-2 to us. We were all exhausted by the end of the match but very happy we won. Well done everyone. Georgie
U8B v Derwent Lodge: Russell House played so well today. The team was dribbling and shooting very well and we all did a good job of staying in our positions. Ellie's defence was really good and we stopped lots of the other team's goals from getting in. The final score was 2-1. Although we didn't win, Amelia played especially well and scored a brilliant goal. We thought we would get a draw but the other team scored right at the end of the match. We all had a lovely match tea! Jessica