Sport Reports: Rugby
31 Jan 2022
Great results from our teams last week!
U11A v King's Rochester: This was our first ever match against the rugby team of King's Rochester. Their boys all seemed quite a bit taller than we are, but that didn't intimidate us! The game went very evenly, with both sides getting plenty of opportunities and trying their hardest. It was an incredibly exciting and tight match. Towards the end, the score was 5-5, when we had a final opportunity at the last play. Harry scored a try by running past four players and placing the ball on the try line on the wing. A great final result! Everyone played exceptionally well and the teamwork was amazing. As a team, I feel we are getting better every week. Xander
U11B v King's Rochester: The U11B team played well and the final score was 10-4 to us. Everyone got involved and we did well at running straight at the other team. Michael and Xavier scored 4 tries each and Christopher and Ben also scored one each. Everyone passed and tackled well. Michael was elected man of the match. Michael
U10 v St Michael's: We started with the ball and passed to Charlie who did an amazing run down the pitch to score a lovely try! Then St Michael's started with the ball made a run to score a similar try. Soon afterwards, we passed the ball through the team to Dexter who was running on the line. Our opponents couldn't get him, and he scored a try. After a tackle, I got the ball and scored an open try, which was followed by William F when he made an outstanding catch and ran with the ball for a brilliant try. He went on to score three more tries. At half-time, it was 7-4 to us. In the second half, play continued to be competitive and led to a final result of 11-9 to us.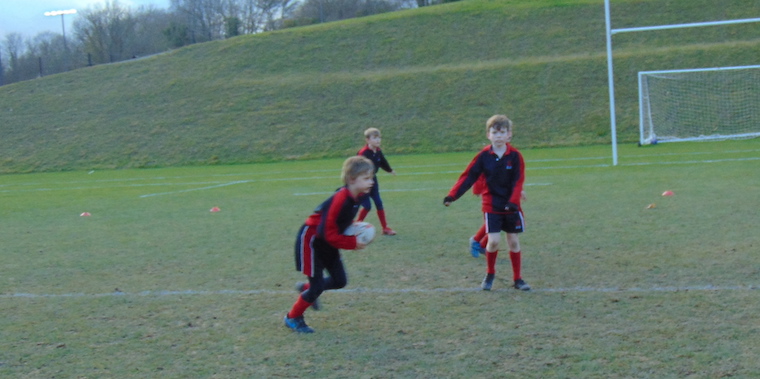 U9 v St Michael's: This was our first away rugby match. It was a very close match. We were overjoyed to win with just one try in it. I think the man of the match would probably be Barnaby, who scored 4 tries and made some important tackles. Two things we could improve on are keeping our formation and spreading out on the pitch. Our running straight showed large improvement though. Austin
U8 v St Michael's: This was our first away match. I scored 2 tries and Henry scored 1. What we need to work on is our formation. Sometimes we had too many people on one side. Otherwise, I think this match went well and the score at the end was 3-4. Hugo