Learning through play
18 Mar 2022
This week Form 1 went on a wonderful trip to Little Street and have been learning about life cycles and Growth.
As Spring is on our doorstep and it is Science Week with the theme of Growth, the Form 1 children have been grabbing the best of the weather to busy themselves planting beans and seeds in recycled paper cups. We thought it would be lots of fun to plant some runner beans in the hope that they might just possibly be magic beans that would grow up into the sky overnight as in Jack and the Beanstalk. As no signs of growth were spotted the next day, the children decided that they must just be ordinary beans, but still worth having a look at regularly to see when they might pop up.
At the same time as planting the beans, the children planted grass seed in another cup. Lots of discussion ensued about the difference in size between the beans and the grass seed, as well as the quantity of each that was needed and the different methods of planting. We have mixed up the cups, so the children will have to use their knowledge to identify whatever emerges and we have been making predictions whether the beans will pop up before the grass seed. Feel free to have a guess at home!
Apart from planting we have also been learning about the life cycles of different animals including butterflies, frogs and chickens. Yes, we did have that discussion about which came first, the chicken or the egg. The children's minds were really stretched but an answer could not be reached. Children are born scientists. They are constantly curious and make their own discoveries on a daily basis, much of which happens during their play both indoors or outdoors.
Our morning outing to Little Street was one such occasion when play was the absolute centre of the children's activities. It was such a pleasure to be with the children whilst they fully involved themselves in all the fabulous role-play areas on offer. Their enthusiasm and excitement was a joy to see as they immersed themselves in acting out different roles whether it be as a vet, a firefighter, an actor, a superhero or even just shopping in the supermarket with their trolley and 'baby'. When the children became builders, walls were constructed which involved not only a lot of thinking skills with a big dollop of trial and error, prediction, experimentation and persistence, but also logistics to work out how to move the bricks from one area to another.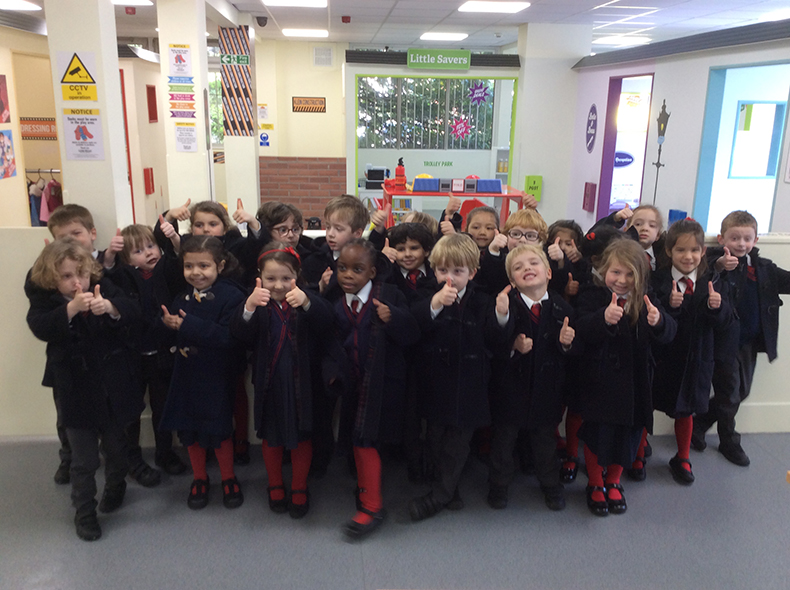 It is important to mention that the children made us very proud during our visit. Their behaviour and kindness to each other in sharing and taking turns throughout the morning was exemplary. They even tidied up everything before they left! On our return to class, their enthusiasm resulted in some wonderful drawings and delightful writing about their adventures.