Lanterns and dragons
27 Jan 2023
This week in Form 1 we have been learning all about Chinese New Year and the children have enjoyed finding out about how people prepare and celebrate this special and exciting time of year.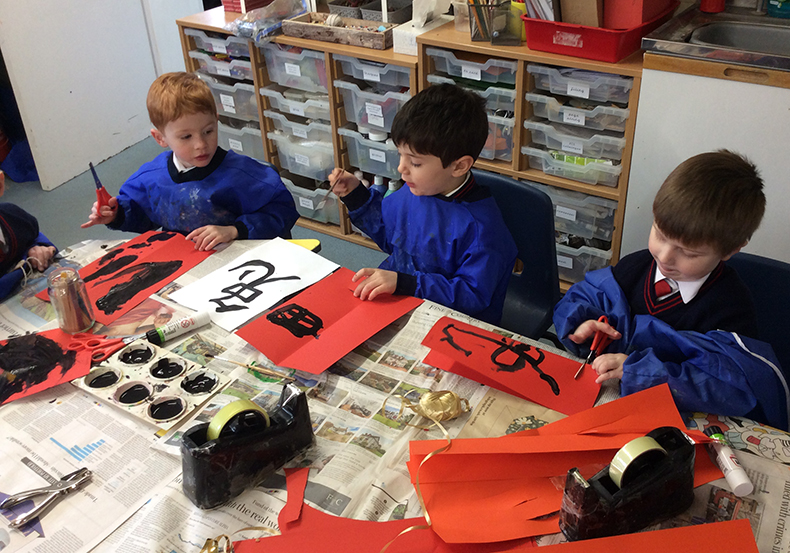 We have been learning about the story of the Chinese zodiac and how each year was assigned to an animal depending on their place in a great race across a river. The children wrote about their favourite part of the story in our literacy sessions and everyone agreed that they felt very sorry for the poor cat, who was pushed into the water by the cheeky rat! The children learnt that 2023 is the year of the rabbit and chatted about the animal that was celebrated the year they were born.
The children had great fun acting out the story, and then very much enjoyed performing it in our Pre-Prep assembly. Each of the children took part in some way and everyone had lots of fun, either playing a character or showing something they had made during the week. The children also learnt a song about Chinese dragons dancing and prancing and loved adding actions to each part. They confidently performed this in our assembly, getting everyone involved.
We have been looking at grouping and sorting this week in maths and thinking about how we can group the same things in various different ways, depending on our
criteria. The children have explored the idea of shape, colour, size and type and also thought of lots of other inventive ways to group, such as wings and no wings or wheels and no wheels. The children were challenged to then identify shapes that did not belong in a group and give reasons as to why they thought this. This led to great conversations about length, shape and number of sides.
It has also been a very creative week in Form 1, as children have been busy making Chinese lanterns and paper dragon puppets. They have explored writing numbers to ten in Chinese characters and learning how to count up to ten - it is very tricky! Our role play area has been a Chinese restaurant this week and children have loved visiting it, pretending to be customers, making noodles in the kitchen and taking orders on the phone.