Sport report: Cricket
26 May 2023
Reports on recent cricket matches, as written by Russell House players.
U10/11A Girls v Kent College:
We played against Kent College and we were so close to winning! We lost by just three runs. The final score was 247 - 250. Our team had some brilliant bowling from Lexi and Ella M. George and Lexi hit a 4 and so did Ella R. The bowler player of the match was Ella M and best batter of the match was Ella R. I think the thing we need to work on is paying close attention to the ball and to run when there is a chance!
Annabella
U10/11 A Boys v Rose Hill: Today it was Russell House's first hard ball game ever against Rose Hill. In the end, Russell House won the game by two runs with Connor getting a fabulous run out from backward point. The game started off badly and in the first two overs we were 9 for 4 but, with a good partnership by Oli and Connor, they added 37 runs. Oli got out for 13 and shortly after Connor got out for 9 runs. Then Dexter and Barney added 40 runs to get a respectable score of 107. We could improve on our bowling as we gave away far too many wides. However, Connor took three wickets and Arthur got two. Then it came down to the final over and Charlie bowled fantastically, conceding no runs off the four balls that were played before Connor's run out earned him player of the match. Dexter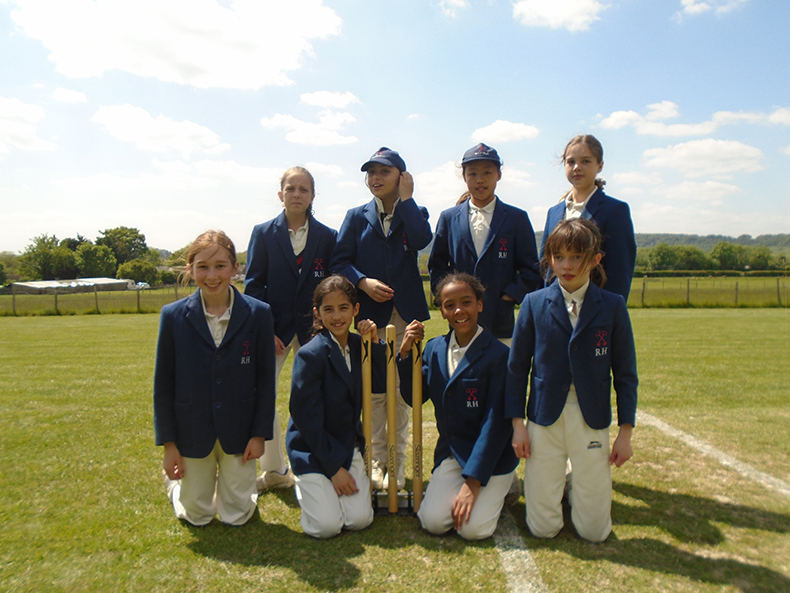 U10/11B Girls v Kent College:
We did incredibly well and won by a huge 26 runs. The final score was 248 to 222. The player of the match for batting was Connie and for bowling, it was me. Issy and Dakota hit 4s and we got a few wickets in. Overall there was great team work and everyone should be very proud.
Mia
U10/11 B Boys v Rose Hill: We won 305 to 292 with eight-ball overs. Oli C, Kamran, Oli L and I each caught the ball, costing them 20 runs in total. We did some good batting and fielding, but we could have been a bit more accurate with our bowling. Kamran and Henry did great fielding and Oli L and Felix hit some great shots while batting. Austin was a great wicketkeeper. Anders