Watch out for the Naughty Bus!
01 Oct 2020
You can't imagine where the Naughty Bus ended up this week!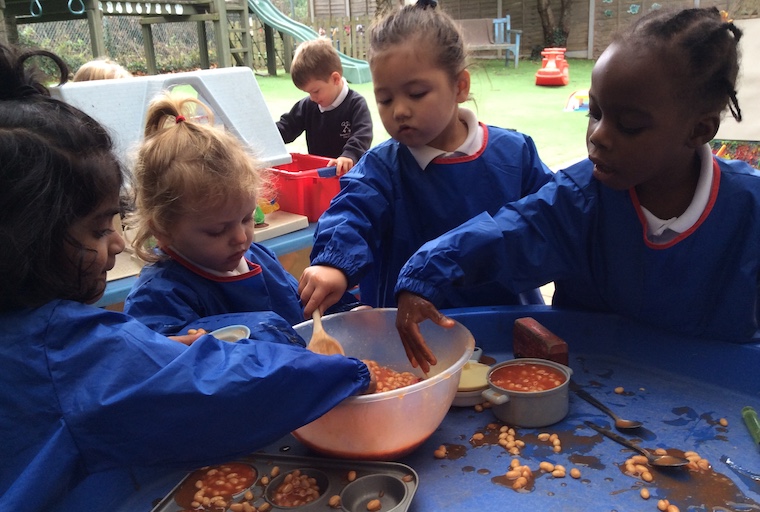 The Naughty Bus has been up to all sorts of mischief in the Nursery and the children have loved reading all about his antics in the story too!
We started the week by making tracks and patterns in paint using the Naughty Buses and other vehicles. This soon turned into finger and hand painting and ending up with arms covered in paint! Much exploring of colours and texture were involved - as well as lots of fun!
The Naughty Bus then had a fabulous time driving and sinking into the pots of baked beans! The children loved driving the bus through the beans and also making Mrs Sayers and me some delicious meals. This sparked curiosity and conversation. Later in the week, we took the Naughty Bus around the school to see what we could discover. We hoped it wouldn't cause any more mischief!
The children have been making towers and buildings using the wooden blocks and bricks for the Naughty Bus and the London traffic. They have been driving numbered cars into allocated parking spaces at the garage. Then they used more counting and number skills - as well as scissors skills - to make their own counting buses for their Special Books.
The children found lots of apples on the paddock which I have cooked at home and which we will make into a delicious apple crumble... or maybe a Gruffalo crumble!
The sandpit has been a magnet for the children this week with so much creative play and critical thinking. Hopefully there has not been too much sand between toes and in socks and shoes when they come home!