Books and stories everywhere!
04 Mar 2021
The Nursery have been busy with lots of activities connected to their favourite books.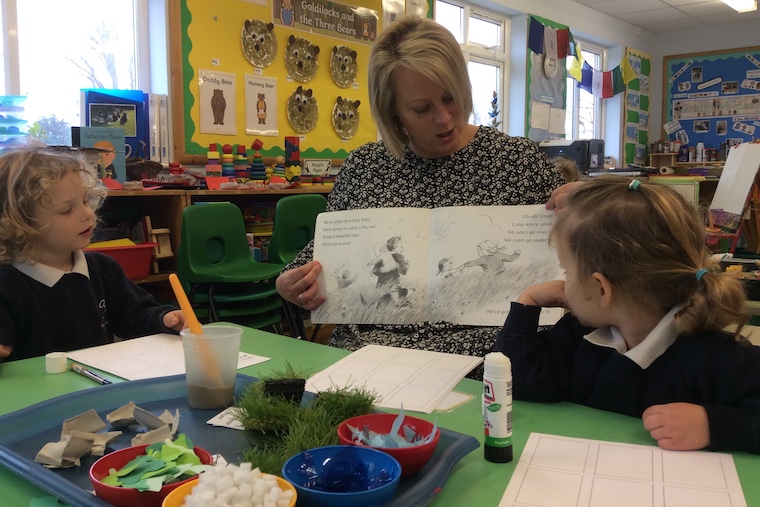 Goodness, so much reading of our favourite stories this week! It tied in so well with World Book Day on Thursday when we had some fabulous book characters arriving in Nursery!
As you know, stories play a very big part in the children's learning in Nursery so there are a lot of favourite books which have been read hundreds of times. It is wonderful to see the children reading independently and to each other during the day, as well as listening and joining in with the repeated words and phrases of the stories they listen to. Anticipating events - especially scary ones - are always so delightful!
This week the children made name rockets for the story Whatever Next. They squished and squashed clay into ladybird shapes for What the Ladybird Heard and played with the diggers and dinosaurs in the sand and pebbles to retell the story of Diggersaurs.
They were amazing at sequencing the story of We're going on a Bear Hunt using different media to create a storyboard. They drew favourite characters in their Special Books and fastened zips, buttons, poppers and buckles for the Smartest Giant in Town. Finally, they chopped fruit to create a fruit salad for the Very Hungry Caterpillar and mad lion faces of some not so scary lions!
All the children were fabulous in Pre-Prep assembly when they showed clues so the other children could guess which story they were from. The answers from the rest of Pre-Prep were amazing too.
We are looking forward to next Tuesday when the children can dress up again in rainbow colours for our charities.