Up, up and away...
14 Oct 2021
It's been a colourful week in the Nursery.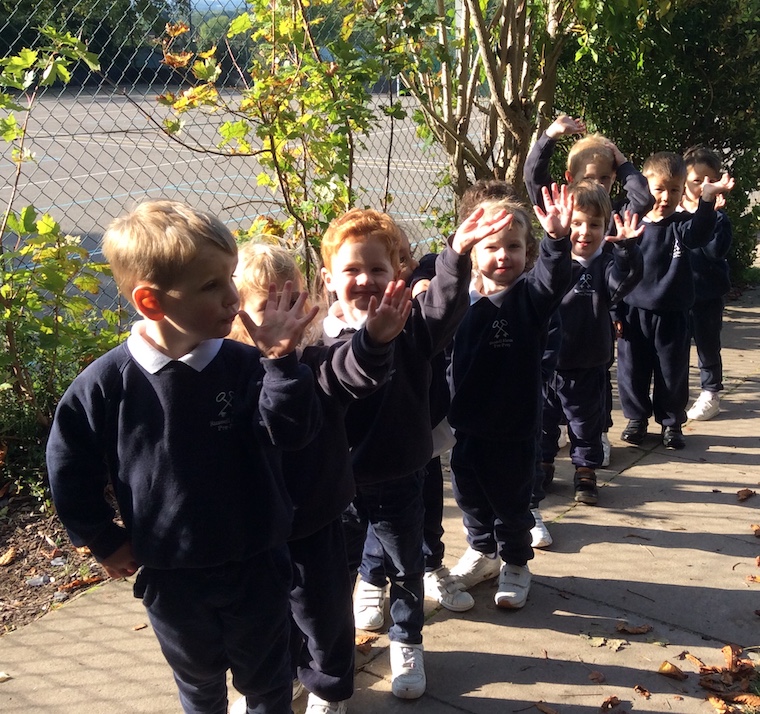 The Blue Balloon has been a great book for developing the children's exploration of colours. After trying to blow up balloons themselves, they worked out how to use the balloon pump. They then used their balloons to make prints for their Special Books. There was lots of laughter when we listened to the 'rude' noises of the balloons as they went whizzing around the Nursery!
The children mixed marbling inks in water, creating wonderful patterns which were printed onto paper. They decorated hot air balloons using cotton reels dipped in different colours of paint. We thought of some fascinating journeys we could make - including a trip to space!
After decorating paper plates using different colours of pens, the plates were made into bats to keep our balloons in the air, which proved quite tricky! The children explored coloured rice using the pots, spoons and diggers. They created some delicious meals for me and Mrs Sayers - from pots of porridge to cheese sandwiches!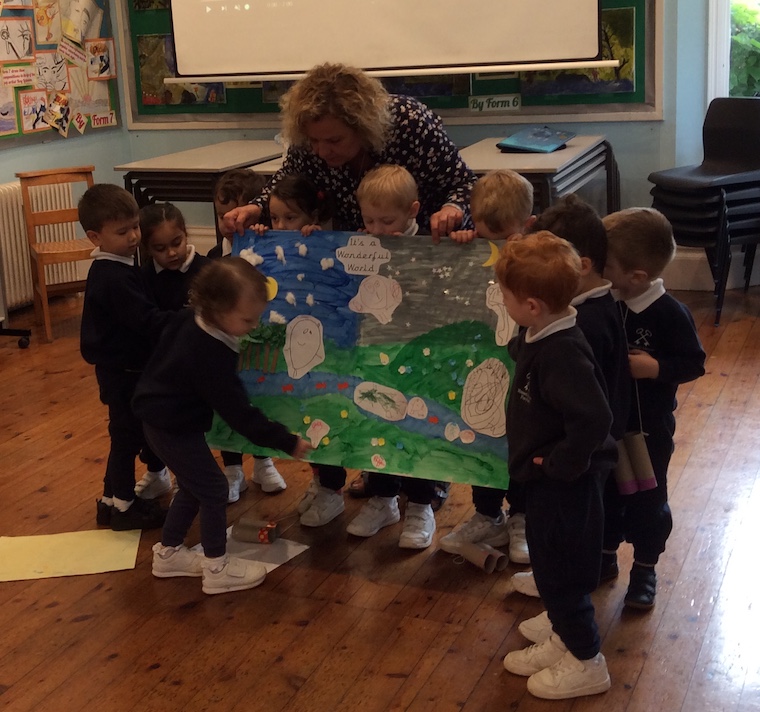 They had lots of fun blowing bubbles with paint water and washing up liquid to make bubble mountains. The children mostly remembered to blow through the straws and not suck!
Mrs Sayers and I were super proud of the children when they took part in Pre-Prep assembly. They were all confident to stand up and talk about Our Wonderful World for environmental week. We had recycled cardboard tubes to make binoculars, and had posters about how to save paper, water and electricity. The class loved showing their collage of Our Wonderful World with their pictures of animals and people. Everyone enjoyed watching the David Attenborough video Wonderful World, which shows the amazing animals and world we live in - do watch it if you can!
We have all had fun together in the garden and at Amber's House. We visited the chickens on the paddock and wondered how many eggs they had laid. Finally, we had a great game of Duck, Duck, Goose in the autumn sunshine.
We are looking forward to taking part in our Pre-Prep coffee morning next Friday and hope to see you there!