A super sensational week
03 Feb 2022
Guess what the focus sound was in Transition this week!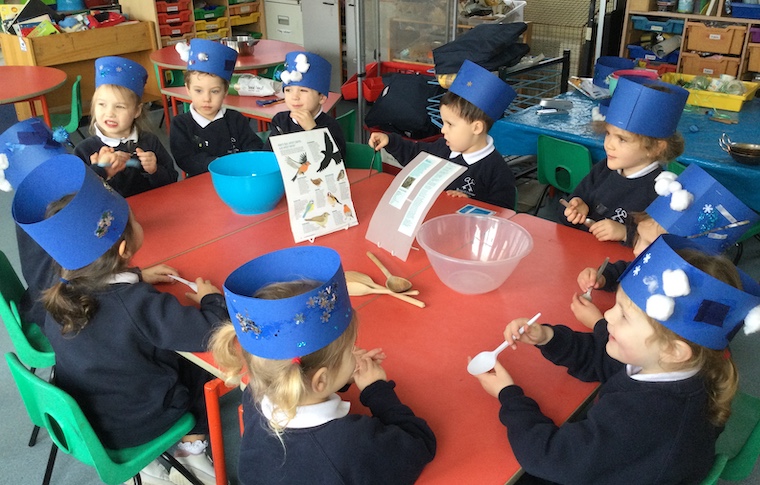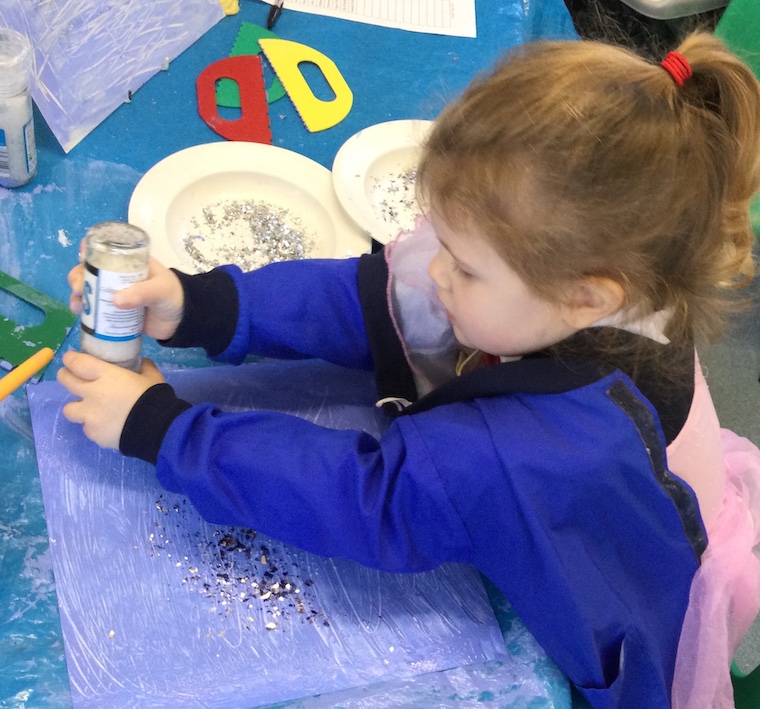 We started the week listening to a poem entitled The Frosted Pane by Evaleen Stein and then created our own icy windows. The children used paint scrapers and added glitter and even salt crystals, to create the effects of ice and frost. Our finished paintings made me think of scraping my sparkling windscreen on a cold and frosty morning! On a similar theme, everyone greatly enjoyed handling ice in the classroom and much fun was had watching the penguins slipping and sliding on the icebergs.
Inspired by the beautiful skies we have experienced at sunrise and sunset this week, we created stunning winter tree silhouettes against wintry skies. The children had a first experience at creating a watercolour wash background before adding their simple, black tree outline. All these beautiful paintings are now on display in our cloakroom.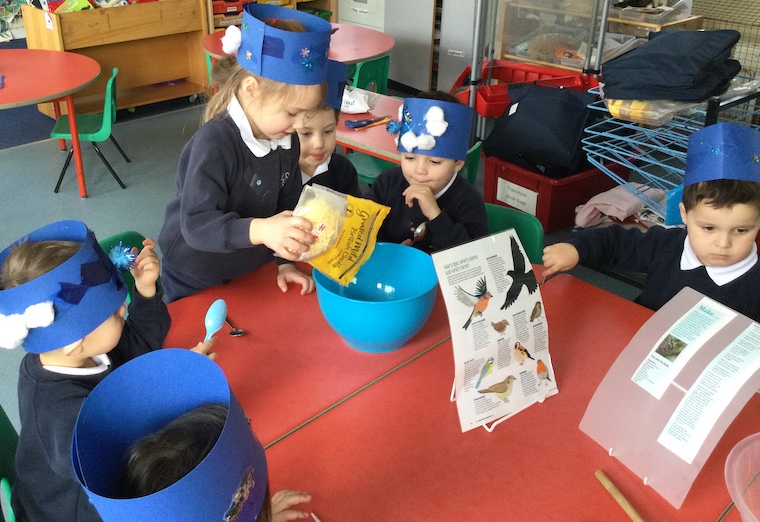 We also turned our attention to our feathered friends while food is scarce by creating bird feeders filled with our birdseed cake. I hope these are attracting a variety of small birds into your gardens at home, just as the pine cones that we also filled and hung from our tree at school have done.
Finger Gym this week saw the children twisting coloured pipe cleaners around peg dollies to form scarves. They also used tongs and chopsticks to pick up noodles in Soren's Chinese Restaurant. To mark Chinese New Year further, some children had a go at copying Chinese symbols to represent the letters of their names, while the whole class turned themselves into a long, green Chinese dragon. and performed a dragon dance across the classroom.
Number awareness has been developed by playing the Roll-a-snowman game in pairs, with the children delighting in seeing one another's snowmen. We enjoyed singing Ten green bottles, hanging on a wall and identifying which numbers were missing.
Individual snakes were decorated and everyone was amazed when a whole tray of slippery, slithering, scary snakes appeared out of a tray! We then tried to create the letter shape of s with them.
Have a lovely weekend, everyone. It has certainly been a super, sensational week of learning and fun!