Exciting experiments
18 Mar 2022
The children have certainly been captivated by this week's experiments in Transition!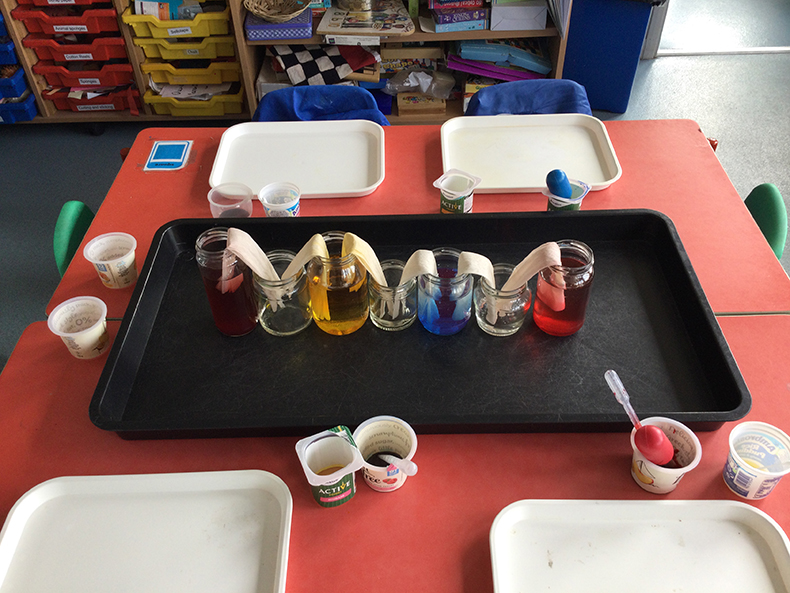 The highlight of the week, by far, was conducting our 'walking water' experiment, where we observed coloured water 'walking' up the paper towels and filling the empty jar beside it. This experiment requires a degree of patience, a very necessary attribute for a real scientist. No instant results here, although by the end of our morning, the children could see that changes had occurred. By the following morning, the resulting gasps and whoops of delight from the children, as they saw the jars, were well worth the wait!
With this week's activities coinciding with Science Week in school, we were very fortunate to enjoy a visit to our school Science Lab. The children enjoyed sitting at the very high stools and exploring the groups of interesting objects that Mrs Carn had laid out for them. Of course, it inspired us to come back and conduct our own experiment, using equipment borrowed from the Science Lab. We added food colouring to milk and then we inserted a cotton bud which had been dipped in washing up liquid. Once again, the children were intrigued by what they saw, as the washing up liquid broke the surface tension of the water and dispersed the colour. We went on to create our own rain clouds, adding diluted food colouring to shaving foam clouds, sitting on top of water. It really did look as though it was raining!
We were very proud to tell everyone in Pre-Prep Assembly all about our science-themed work of late and we concluded that 'science is fun'.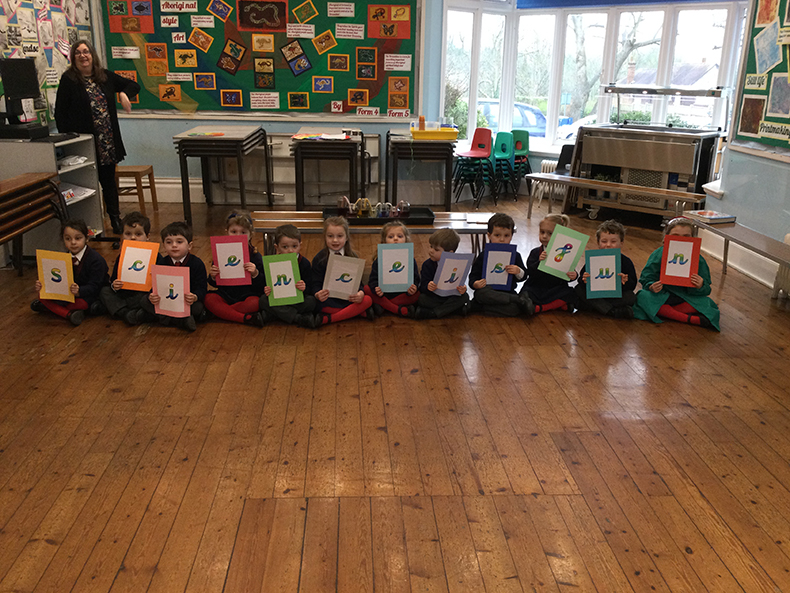 Other activities this week have included playing board games, measuring ourselves against Unifix cubes, using the dot markers in the Finger Gym and blowing ping pong balls along a race track. Our P.E. session saw the children climbing, clambering and balancing on the outdoor equipment to build up their physical strength, confidence and gross motor skills.
With Mother's Day on the horizon, we have also been very busy creating special cards for our Mummies. Such pride and care has gone into these beautiful designs and the children can't wait to bring them home next week.
Our focus letter sound this week is 'n', with our suggestions including night, noisy, nocturnal and even nonagon, which I have to say, was a new one on me! We all loved hearing the funny poem, On the Ning, Nang, Nong, by Spike Milligan, which really illustrated the nnn sound.
Here's wishing everyone a very non noisy weekend!