Our new friends
06 May 2022
We certainly have kept very busy this week in Transition!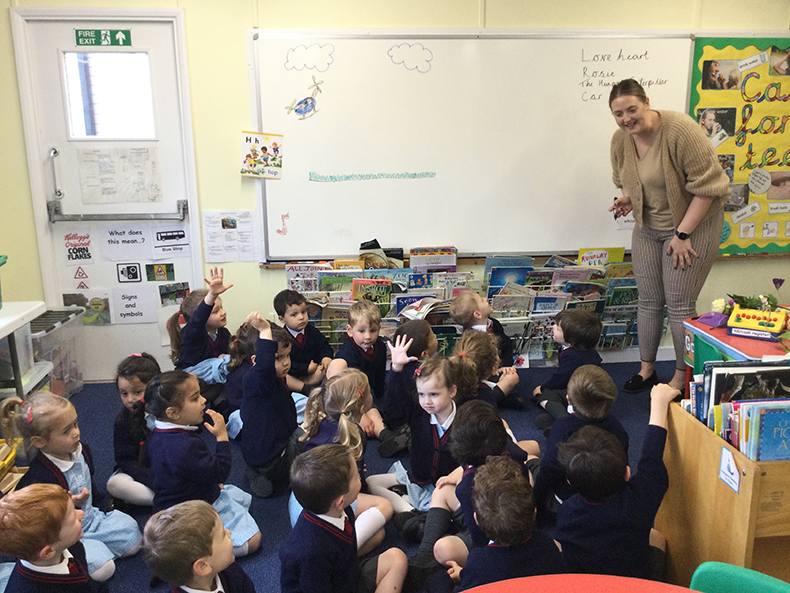 It was the start of May this week and to celebrate all things new we decided it was time to meet our class caterpillars. We will be observing the caterpillars over the next few weeks to monitor any changes we see. Transition were very excited and we decided to give our new furry friends some names. We discussed how voting works and decided this would be a good way to fairly choose the names. Please welcome; Rosie, Toby, Flowery, Lulu and Brian (the caterpillars).
Transition have also been very creative this week. Continuing with our theme of caterpillars, the children used cotton wool balls and pegs to create our own. We discussed how caterpillars can look very different and ended up with caterpillars of different shapes and sizes. The children also had lots of fun exploring our in class instruments which we played in a variety of ways - loud, quiet, fast, slow. We chose a few nursery rhymes to sing alongside our instruments.
This week's letter sound is 'h'. Transition came up with many fantastic ideas; hump, hand, helicopter, horse and many more. We were very impressed with the drawings some of the Transition children did during our letter sound. We also introduced our Good Choices Jar to Transition. The aim is to try to fill the marble jar up to the top and this is done by showing brilliant behaviour. As we have had such a super week, the class are already well on their way to filling it up!
Lots of fun has been had whilst playing in the garden this week. The floor is lava has been a clear winner, with most children in Transition taking part and putting together "stable" constructions to walk across.