Going on a bear hunt
23 Sep 2022
What a busy week in Nursery this week when we have all been looking for bears! The children made binoculars to go on a Bear Hunt to find Teddington in the garden who was finding lots of very clever places to hide!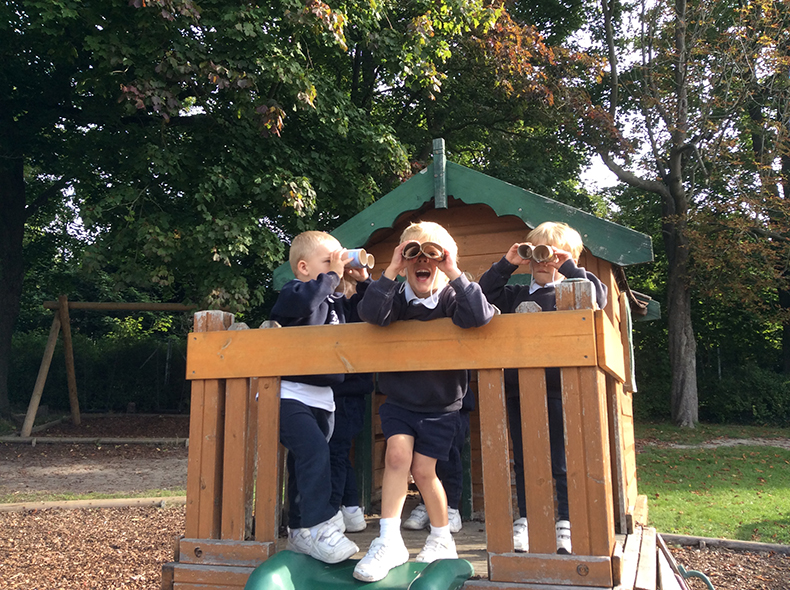 The children then used their binoculars to go on a Scavenger Hunt around school to find lots of natural objects from ants to the bark on the trees. They were amazing at understanding the instructions to tick the boxes when they found the objects and very good at thinking where the objects could be!
The children made their own We're Going on a Bear Hunt book by sequencing the pictures in order by recalling the events of the story - some really fabulous thinking! They also made a storyboard collage by choosing appropriate media to represent the story and again lots of fantastic thinking and retelling using the descriptive words and phrases.
Caves, homes and other models were made for the little coloured bears using the wooden bricks and blocks and using their skills to ensure the models were stable. There was lots of chatter about behind, next to and on top as the children worked to create their structures.
This week in their Special Books the children made marks and drew pictures of the story using appropriate colours for the long wavy grass and the deep cold river.
The children have enjoyed making cakes and other delicious food with the play-dough for myself and Mrs Sayers - we also had cups of tea and coffee from the home corner too!
Outside in the garden there have been picnics and they have been building ramps with the wood and gutters as well as drawing rainbows on the ground.
We played the Listening Box game together which is singing a little rhyme and then choosing something special from the box and listening to the initial letter sounds of the objects as well as lots of roaring for dinosaurs and brumming for the cars!