Woodland animals
25 Nov 2022
Another busy week in Robins. Our topic this week was Woodland Animals and we received a special delivery from a certain Xmas friend called Elvis.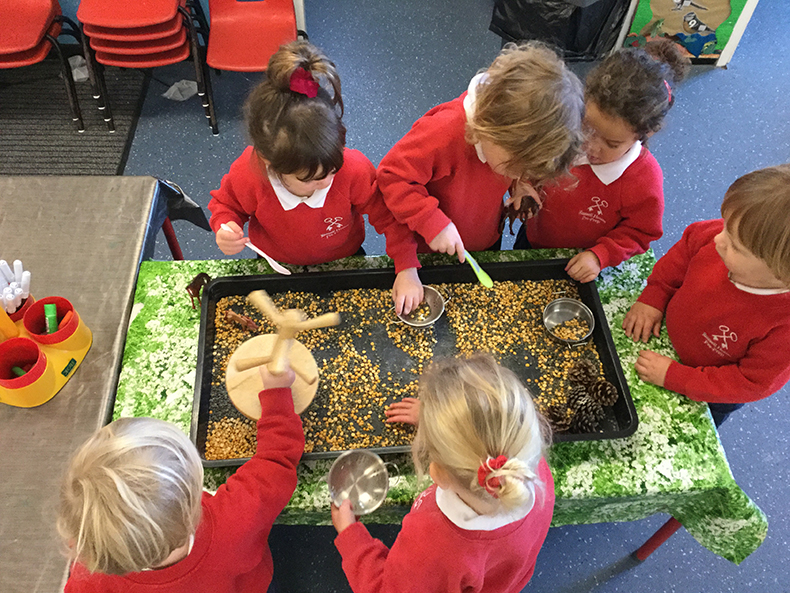 The Robins had lots of fun exploring our woodland sensory tray which consisted of green lentils and split peas. There were a variety of animals grazing on the grass. The children also liked scooping up the lentils with different-sized spoons, and then they enjoyed transferring them into shiny bowls.
Continuing with our topic, we used our investigation sheets and magnifying glasses to explore the school field. The children were very excited to find lots of holes in the ground and around the edge were signs of rabbits. Afterwards, we made our way to the sandpit and the children were amazed to see footprints in the sand. It was great to see the Robins use their woodland animal footprint sheets to identify which type of animal made the prints. We all worked together and discovered that it was a fox.
We read the story Who's Hiding in the Woods? which linked to our topic. Each Robin took turns to open the flap on each page which revealed a woodland animal. The hedgehog was their favourite so we made hedgehog bread rolls. The children enjoyed rolling their dough and they carefully used a fork to make spikes. Unfortunately, we had eaten all the raisins so we had a look in our cooking box to see what we could use for the eyes. It was decided that we should use chocolate drops for the eyes. I must say, the rolls were very tasty and even better with a nice spreading of butter.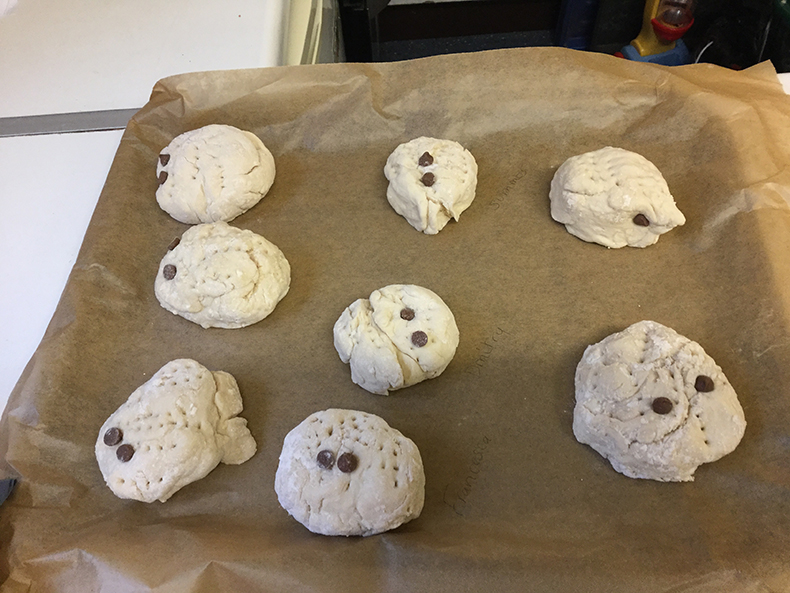 We made a delivery to Mrs Tickner, Mrs Parker and Mr McCarthy. They were all very impressed and said how lovely and warm the rolls were. We then walked back to class and gathered on the carpet to play the Kim's Game with Mrs Beary. The Robins did a great job remembering the missing objects.
The children thoroughly love Peter Rabbit so they were very excited to participate in our cutting and sticking activity. The Robins carefully used scissors to cut out pictures from the magazine. Stickers were also a fond favourite and the children liked adding them onto their pictures.
During the week we had lots of fun playing in the crunchy leaves, and even better… throwing them in the air! We were very thirsty afterwards so we enjoyed a yummy hot chocolate in the outdoor classroom to warm our tummies.
This week has certainly been super busy and it was lovely to see some of our new Robins that will be starting with us in January. We also had a special letter from our Christmas friend, Elvis the Elf. He is looking forward to joining us next week for lots of Christmas fun and, most importantly, he likes to see children doing the right thing.