Jiggling jellyfish
19 Sep 2019
There have been jellyfish sightings in Transition this week - some big enough to give you the wobbles!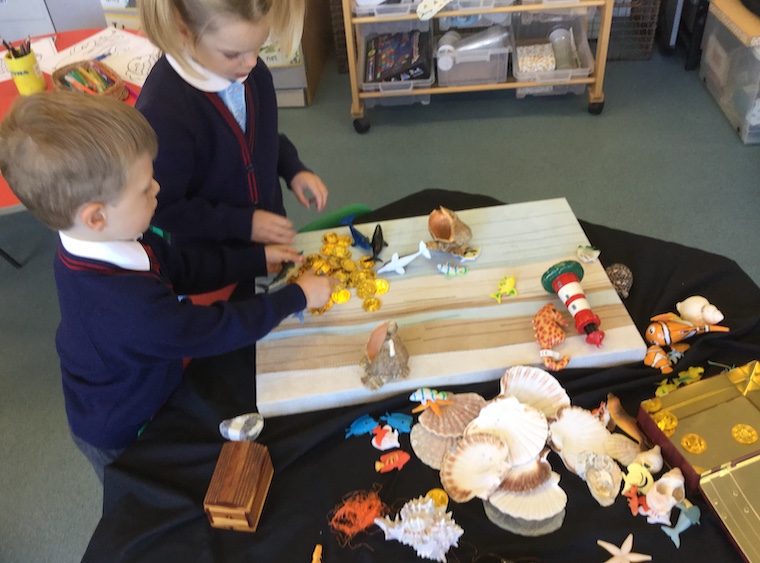 Intrigued by a photograph in the paper of a deep sea diver swimming alongside an enormous jellyfish, the children have been creating their own jellyfish and octopuses. They personalised their creations with colourful, flowing tentacles and faces. Some children have been encouraged to sequence numbers 1-8, to represent their octopus' arms.
With the completion of our shell, sand and pebble art work, our Under the Sea display is now looking wonderfully inviting and reminiscent of our holidays at the beach. One morning we even found Mr Monkey caught up in the net, looking at the children's work!
Our coloured glass magnetic shapes have been very popular this week and the children have enjoyed exploring the properties of the various shapes within their designs.
Despite the somewhat chilly mornings, the beautiful sunshine has inspired us to start to make our garden fence look more cheery. The wheelbarrow, trowels, trugs and watering cans have all been employed in the process of planting up pots of pansies and sweet williams, which I hope will give us lots of interest and pleasure during the coming autumn months.
It has been another super week in Transition. Mrs Nelson and I could not have wished for better ambassadors during our school Open Morning, when the children chatted freely and confidently to all of our visitors; young and old, big and small!