Anyone for crumble?
17 Oct 2019
The Nursery children have been making crumble this week.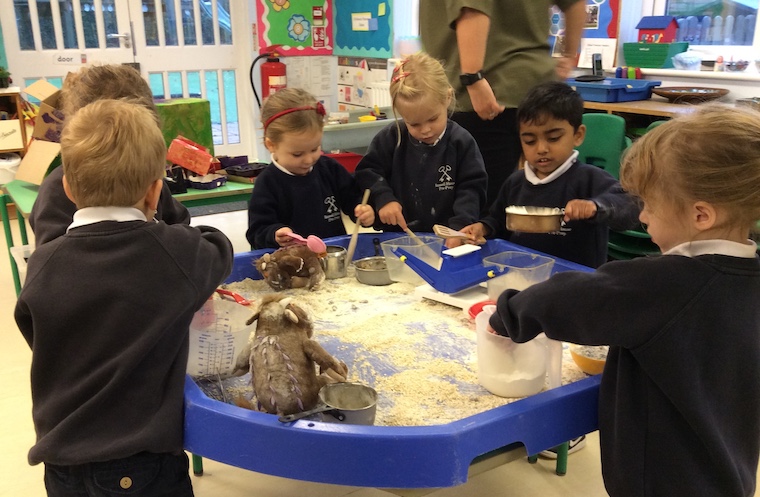 Another busy week in Nursery making Gruffalo crumble - with the flour, oats and sultanas making us all very dusty! The children used scales to weigh the ingredients and mixed everything together using a variety of utensils to create some delicious crumble for the Gruffalo and indeed for myself and Mrs Sayers too!
We followed this by making apple crumble using some of the apples from the paddock. The children weighed the ingredients and cut the butter to rub into the flour, sugar and oats before sprinkling on top of the apples ready to be cooked at home - we hope you enjoyed it!
The children have been drawing pictures of the Gruffalo in their Special Books and they made their own log pile houses for the snakes using leaves, bark pine cones and sticks.
Following on from the Halloween party, the children investigated the pumpkins. They banged nails into them with a hammer and used the coloured pins to create colourful pumpkins. We had a visit from Mrs Sexton who had brought a snake skin to show us, which we thought was fantastic - especially as there was a snake in our story this week. Luckily it wasn't a scrambled snake like in the Gruffalo.
Finally, it has been Environmental Week so the children have been looking at recycling and re-using a range of materials to create the Robot and bug homes from plastic bottles. They also planted flowers in tin cans. We hope you enjoyed us showing what we had made at the Pre Prep Coffee morning!
We wish you a very happy half term and look forward to seeing you all again in November for the countdown to Christmas and our production of Whoops a Daisy Angel!