Out and about
14 Nov 2019
The Robins have been gathering treasures in the school grounds.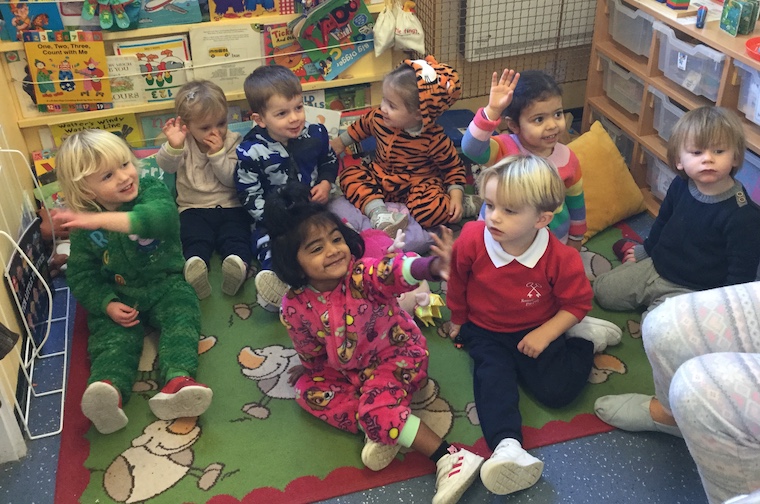 Our topics this week in the Robins have been My Family and Remembrance. We made poppies using paper plates and tissue paper. It was interesting to see the end result, as some children had scrunched the tissue paper, while others had used strips of paper. The children watched the Poppies video on CBeebies which was a lovely way for them to understand the meaning of Remembrance.
During carpet time we spoke about our families and our favourite things. Our Robins are always very excited when they see their siblings around school and they like to say, "Hi". After discussing their favourite colours, we decided to make spotty Pudsey cakes. The children had lots of fun decorating their spotty cakes and picked their choice of icing.
At the beginning of the week we went for a nature walk around the school grounds. The Robins enjoyed collecting treasures including beautiful coloured leaves and sticks which they put inside their bags. On our return, these treasures were put to various uses in the mud kitchen. We were overjoyed to discover that Bobbin the horse had returned from his travels. The children were so happy to see him and we sang our Horsey, Horsey song. While on our travels, we discovered a large hole in the sand pit on the field, which was probably made by Mr Bunny.
The children have been very creative this week and it was lovely to hear them discuss their ideas with the older children from Form 6. We had a visitor from Form 5 and she made some beautiful pictures with our Robins.
It was great fun wearing our onesies to raise money for Foal Farm. They kept us lovely and warm. There was such a variety, ranging from unicorns to dinosaurs.
It is starting to feel very Christmassy in Robins as the children have been very busy practising for their Christmas play. Our Christmas activities are well under way and we have already started to decorate our Christmas bags. The children particularly enjoyed using the stickers and this is such a great way to promote fine-motor control. We finished the week with some yummy Christmas tree crumpets and a walk to see the trains.......choo choo, woo, woo!