I wonder why?
27 Feb 2020
Transition have been scientists this week, investigating some interesting questions.
With our return to school, our focus has been on science and the world around us, which has given us ample opportunity to stimulate curiosity and increase the children's vocabulary.
We started the week by looking at a huge encyclopedia, which we quickly realised answered so many of our questions about a wide variety of subjects... from the weather to dinosaurs!
We have been experimenting with watercolour pencils and watching the effects of adding water with magic brushes. With the children's heightened awareness of colour following our theme from last term, they had a much greater appreciation of differing shades of colour. Their paintings are beautiful and are adding a welcome touch of spring colour to the classroom.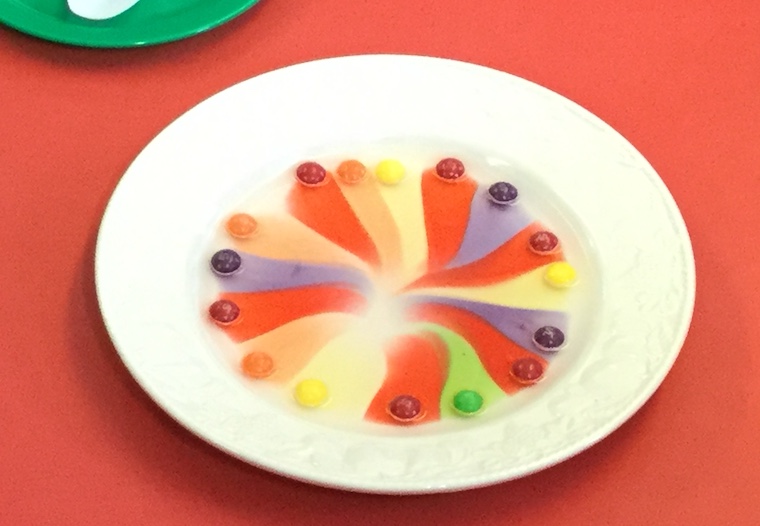 We became real scientists too this week, learning about some of the equipment that scientists use, such as measuring jugs, pipettes and test tubes, all of which have been put to practical use at the water tray.
Our budding scientists became completely fascinated when we conducted our colourful Skittles experiment in the classroom, when they watched a colour wheel appear before their very eyes! The individual colours initially stayed together and eventually ended up in an unappetising mess and muddle, inspiring the children to use their critical thinking skills as to why this had happened, with suggestions such as the sweets melting.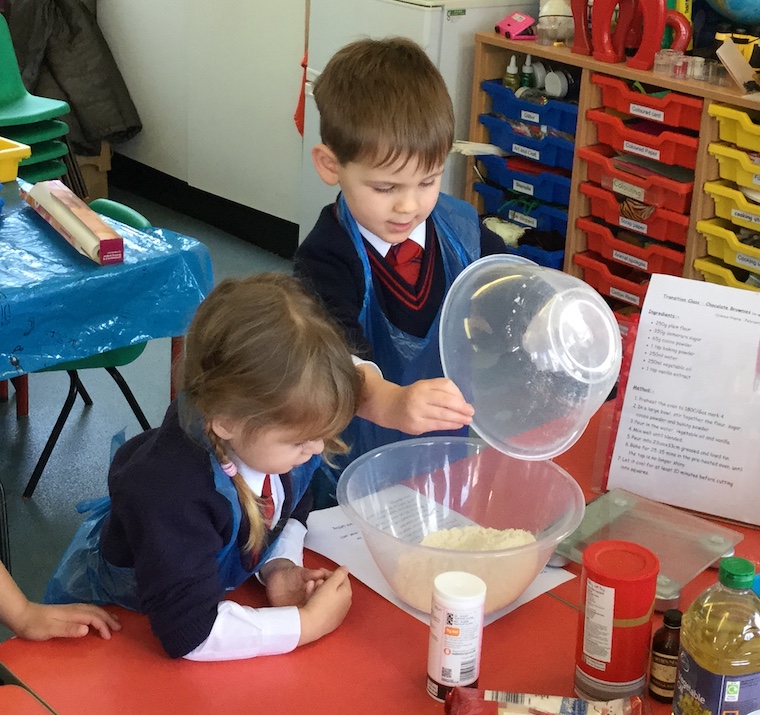 The science of cooking has kept everyone busy, when we prepared a huge batch of chocolate brownies (which I understand were delicious and somewhat difficult to share once home!) This was a real team effort, with everyone learning about information contained in a recipe and contributing to the task by measuring, pouring and mixing. We noticed particularly how the shiny, sloppy mixture, once cooked, had risen up and looked quite firm.
Sharing books, as always, has played a big part of our week and especially so for Book Week. We enjoyed hearing about other classes' favourite books during Pre-Prep Assembly and showing everyone one of ours too! You can see more pictures from the dress up day here.
After hearing a story in the library, we were even inspired to think about writing our own Transition class story! Consequently a big brainstorming session ensued, with all the children contributing ideas, taking turns in conversation and listening and valuing one another's suggestions. More details to follow about our book launch, with signed copies by the authors of course! All I can reveal at this stage is that the children have decided the main character of their story will be called Annie the Allosaurus and that Mummies and Daddies will be the heroes and save the day.