Pizzas and surprises
19 Mar 2020
The Robins have been making pizzas and a few secret surprises for you know who this week!
Our topics this week were St Patrick's Day and Mother's Day. We read the story I Love My Mummy and the children enjoyed looking at the lovely pictures. They thought the baby in the story was a little bit cheeky and very messy! Our Robins said they are not messy because they tidy their toys away.
The children liked making cress pots and are looking forward to watching them grow. Leading on from the cress, our Robins continue to be fascinated with the growth of their magic beans in the ziplock bags. It was great to see them so engaged and talking about their beans. Please add any pictures of their growing beans in the Home/School Journal and we can share these during snack time. One magic bean grew so big and we decided it was because there was more sun shining on it compared to the others.
Our Robins have been very busy making some surprises for their mummies. Holding the cotton buds requires them to use their fine-motor skills and then they picked various colours to add to their pictures. It was lovely to see that each was unique - we hope you like them!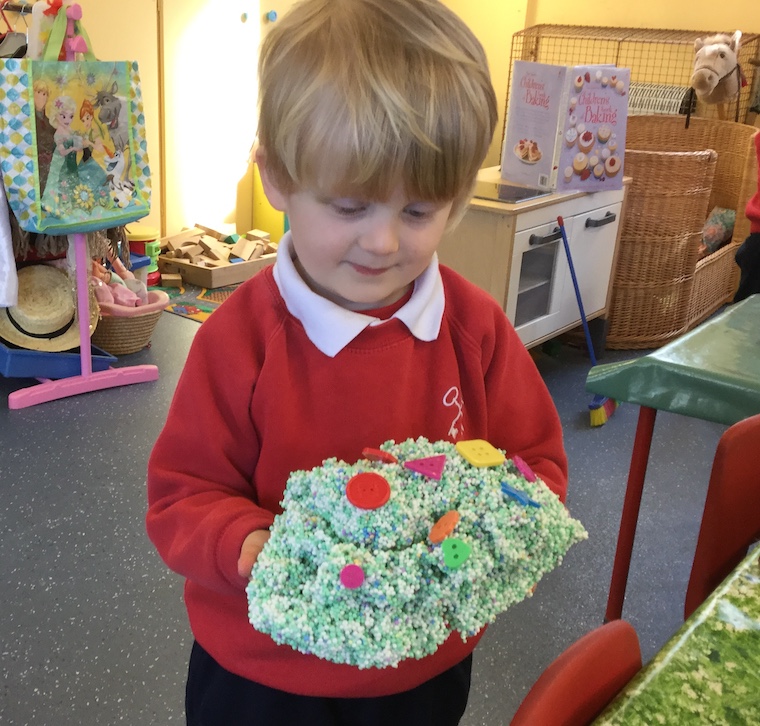 On Thursday we made pizza for our snack. All our Robins washed their hands and helped each other with their aprons. Carrying on with the pizza theme, the children used bobble-dough to make their own pizzas. They were very creative and it was great to see such a range of resources being used, including buttons, pom poms and paper straws. Our Robins are such creative learners and we encourage this within daily activities as it is so important for their active learning.
They have thoroughly enjoyed the mud kitchen and the soap dispenser has been very popular. Some children found it tricky to use so they asked for help. However, once they were shown how, they had so much fun playing independently with the water and sand. We even visited the seaside as the weather was nice and had great fun playing in the sand, making different sized sandcastles.
The Robins were so excited to go shopping to buy something nice for their mummies. We were joined by the lovely Form 5 children who helped our children pick their gift. Afterwards, we had a group photo and rather than shouting, "Cheese", we shouted, "Shopping".
We finished the week with a walk to feed Bobbin some yummy carrots and he gave us a big, "NEIGH".