An odd sock day
17 Nov 2023
Our topic this week in Russell Robins was Kindness.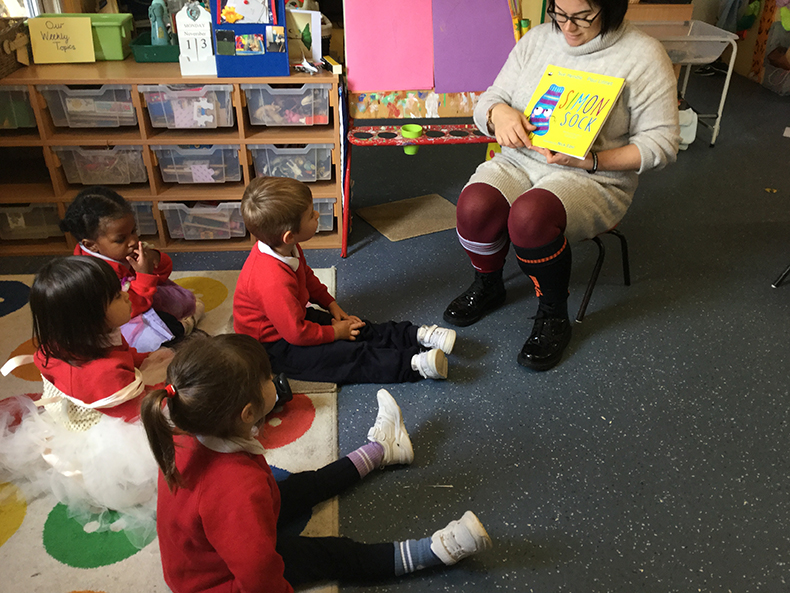 Monday was Odd Sock Day as part of anti-bullying week and it was great to see lots of colourful odd socks. The Robins were treated to a new story about an odd sock called Simon. The story celebrated differences and there were lots of funny parts, especially when he tried to find his pair (partner).
After our story, we visited Mrs Tickner to collect our weekly groceries. The Robins did a great job of carrying the healthy fruit and vegetables, bread and crumpets back to class. Our Robins are definitely crumpet monsters and also the Form 6 children!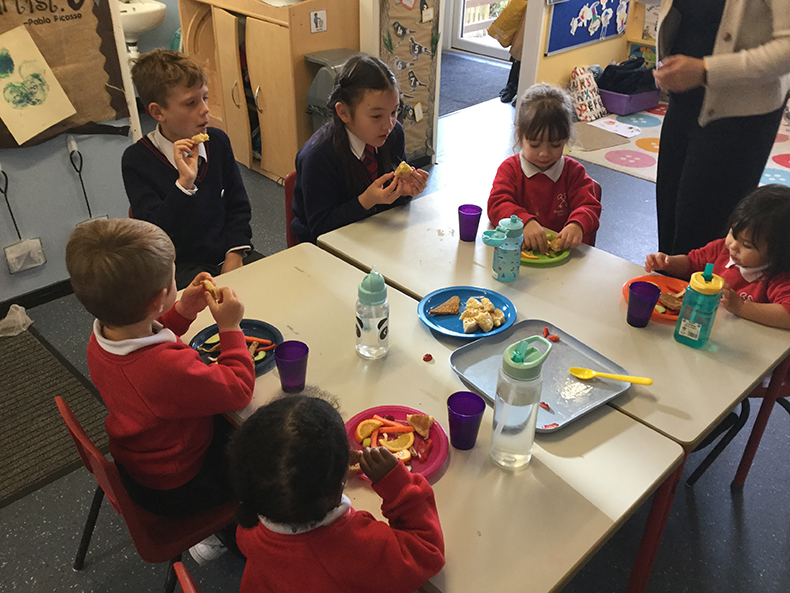 We love our visits from the older children and they are always so good with our little ones, especially when they hold their hands as we move around the school. This supports the children's confidence as the older children will always give our Robins a high-five as they move to their next class.
As part of our weekly Kindness topic, the Robins took part in a brainstorming session. We spoke about the famous quote from the Ancient Greek author, Aesop. It does not matter whether you do a small or big act of kindness, as the important thing is that it is an act of kindness and it is never a waste of time. As you can see from our poster, the Robins thought of their own acts of kindness.
It was wonderful to hear their own ideas and how they can help nature. With that in mind, we fed the birds behind our viewing window and it has been lovely to see our garden birds visit the feeder.
Continuing with our topic, we played a kind and not so kind game. We worked together to sort the pictures into the correct piles. This game provided lots of discussion about doing the right thing.
Our cooking activities consisted of kindness biscuits, sprinkled with loveliness and our hearty jam tarties that were also very popular with some of the mummies.
There was an exciting new addition this week in Robins. Our Busy Boxes went home for the first time and there was some wonderful feedback. The children were super excited to take our newly introduced resources home to share with their families. The lovely pictures and activities were added to our Busy Box display board for the children to see. This will promote and support communication and language, as the children will be able to identify their work.
We are certainly feeling festive and the Robins are thoroughly enjoying practising our Christmas Concert songs with Miss Norford. The children also took part in a spot the difference game in music as they had to find the differences between a guitar and a ukulele. Ummmm, I wonder if you can think of any differences at home.
The Robins enjoy singing our Days of the Week song during our morning carpet time and they are very good at working out the date with a couple of Mrs Warner clues.
Elmo the Cookie Monster game has been super popular this week during our CTOUCH activities. It's great to see how much fun the children have as they press the different icons to make a special design.
Not all of our children choose to take part in cutting activities, but this week there were lots of willing participants, which might be due to the exciting Baby Shark wrapping paper. The Robins enjoyed using their training scissors to make lots of snippy snips. Well done, Robins!