Moon rocks to rock cakes!
22 Nov 2018
Transition continue to be fascinated by the theme of space.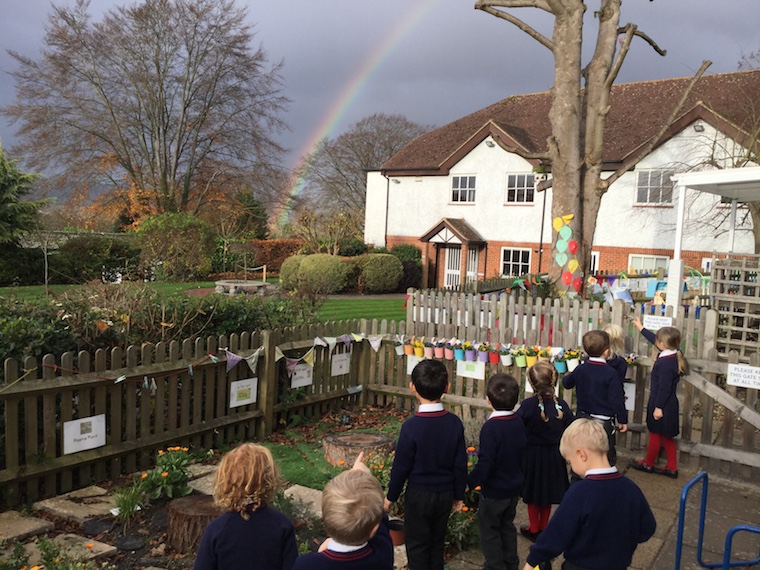 What an amazing finale to our space and sky themed past few weeks, with the appearance of a beautiful rainbow in the sky above school. We could not have planned it any better and we all had to dash outside to take a proper look!
Transition have been so interested in our theme and it has been wonderful for us all to be learning so much together along the way. There has been a great deal of interest in our non-fiction books, which some of our astronauts have turned into 'space manuals' in the role-play area. There have been numerous scheduled departures and arrivals of aircraft in the classroom too this week.
We have been thinking how the surface of the moon might look and studying pictures of different types of rocks and minerals, culminating in making our very own rock cakes (or meteor cakes!)
This involved lots of weighing, chopping, rubbing in of the butter to the flour, mixing, pouring, cracking of eggs and stirring by the children who waited patiently as they took turns. The results looked and smelt incredible and most of the children told me how much they had enjoyed eating their cakes at home - so much so, that one of our children went on to make another batch that very night!
We have also created beautiful pictures of planets in the frames, using our pretty marbles and other loose parts, with the children naming the planets along the way.
Other activities this week have included creating zigzag patterns in the coloured sand with a paintbrush, weaving strips of foam in the Finger Gym and, not forgetting, lots of practice for our Nativity.