Brrr... It's cold outside!
24 Jan 2019
In line with tradition, Transition's winter activities coincided with the arrival of snow!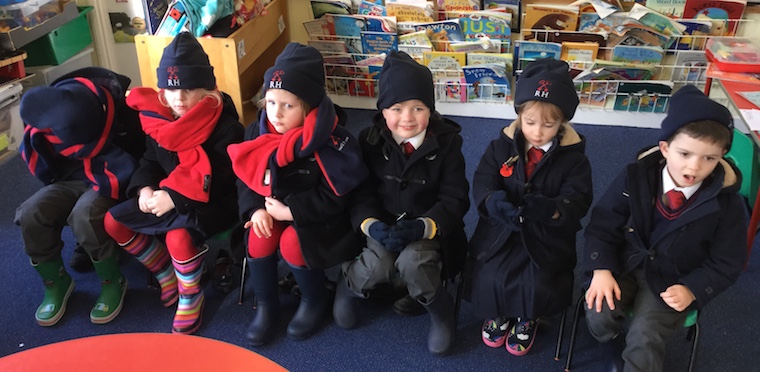 Who needs the Met Office or the multitude of weather apps when you have a child in Transition? Every year, as soon as we make our blue, sparkly winter hats, it is guaranteed to snow. 2019, it would seem, is no exception! The children's hats, most of which were made on Tuesday, are stunning and are now all ready to be worn during play, or whenever we might feel the need to carry out a Snow Dance, in anticipation of the next downfall.
With the sudden dip in temperature at the beginning of the week, Transition have hurtled into their new winter theme, learning first hand about cold, frosty weather. We donned our hats, scarves, gloves, wellies and duffel coats and headed outside, crunching across the frosty grass, taking a particular interest in the trees and observing which were deciduous or evergreen. The children had a go at taking their own photographs on the IPad. After singing songs to the pony on the Paddock, they returned to the classroom with rosy cheeks having experienced the bright, chilly winter sunshine. The following day, they made sketches of trees, taking their inspiration from their photographs and other trees in the classroom.
Other activities this week have included decorating felt mittens and scarves and colouring in pictures of winter garments too. We made a big bowl of Silly Soup (always welcome in the cold weather), into which we threw lots of items beginning with the phonic sound 't', such as tape measure, toilet roll, table and toast, although I am not sure how tasty it will be!
The children's self-portraits are now complete and are on display in our lobby, should you be passing. Do make sure to play our Guessing Game to see if you can identify Who's Who?'
A really terrific week Transition!