Icy treasures
31 Jan 2019
Transition continue their wintry theme and uncover some treasures hidden in the ice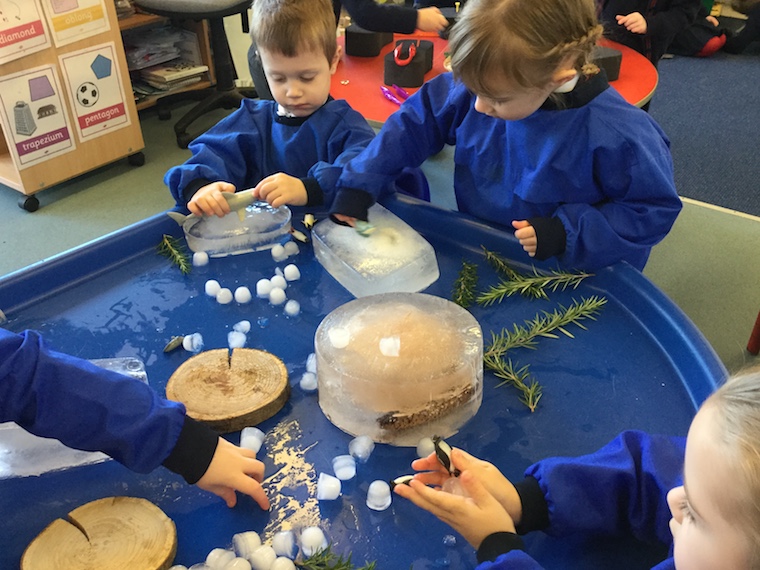 Transition have enjoyed a wonderful week of wintry activities, where the weather outside has certainly complemented their learning!
We started the week by giving a helping hand to our feathered friends outside, who might be struggling to find sufficient food in the winter, by making our own birdseed cake. Much pouring, mixing, measuring and stirring took place, before the children carefully spooned quantities of the cake mixture into little pots to take home and hang on the trees in their own gardens.
We had great interest in our icebergs, patiently waiting to see which items had become frozen and embedded into the ice. We have been strengthening our wrists and fingers by using tongs to pick up 'snowballs' to balance on the golf tees.
Our beautiful icy window paintings, where we used scrapers in the paint and rock salt to resemble ice, are all hanging in our windows and they are making us feel chilly every time we look at them! All the children and staff in Pre-Prep were able to enjoy them too during our shared Assembly with Nursery this week. We also taught everyone our Frost is on the Roof rhyme, as well as showing them examples of our lovely work this term.
We have been decorating felt snowmen, creating our own snowflakes from lolly sticks and gemstones and, of course, our icy blue winter hats have been on plenty of times during the week, so nobody should be caught out! You know what's likely to be coming..!