The colour of love
14 Feb 2019
Exploring colours and seeing what happens when we mix them has been a focus of Transition's week.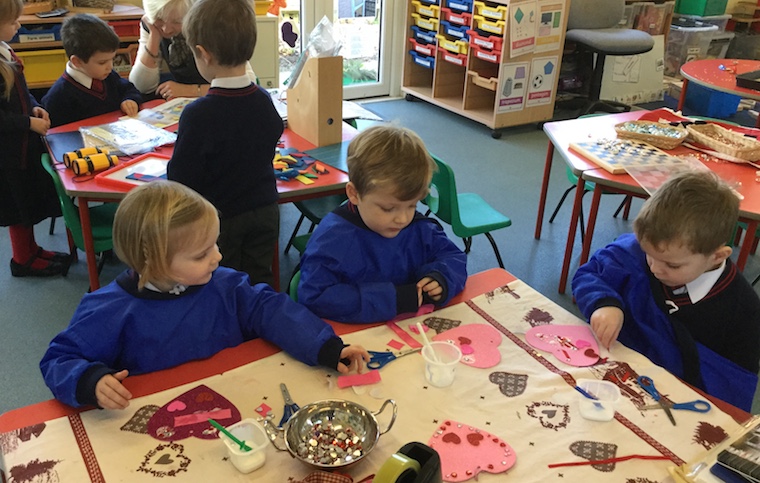 The children enjoyed working with watercolour pencils, then using magic paintbrush/pens to create a wash, which completely changed the look of their original design. I particularly enjoyed hearing the children describe their efforts, with exclamations such as, "They look like different coloured clouds", and "What does orange and blue make? Wow! Dark green! What happens if I put more water on it?" and "I have made jungle colours!"
The results are all beautiful and definitely worthy of a frame. The children have also created their own colour wheels, selecting various paint swatches and comparing the shades of different colours, talking about which colours are light and dark.
Decorating hearts for Valentine's Day, to be given to special people in the children's lives, was truly heart-warming to watch. I can assure the lucky recipients that a lot of love, time and care was taken on the creation of each one and I hope they are enjoyed, just as we have enjoyed making them and displaying them in our classroom this week.
Some of our Maths-based activities this week have involved searching in rice for tiny keys and matching them up with numbered padlocks and also creating patterns on the chessboards with gemstones.
Learning how to make a sound on the flute during our music lesson was a great achievement and no mean feat, as we learn now about wind instruments!
Mrs Nelson and I should like to congratulate the class on all that they have achieved this half term. So much learning has taken place with a great deal of fun along the way. We wish everyone a restful and happy holiday, but before we sign off, I wanted to include some photos of our dragon for Chinese New Year - guaranteed to raise a smile or two!