What can you hear?
28 Feb 2019
Nursery children have been using their listening skills around the school this week.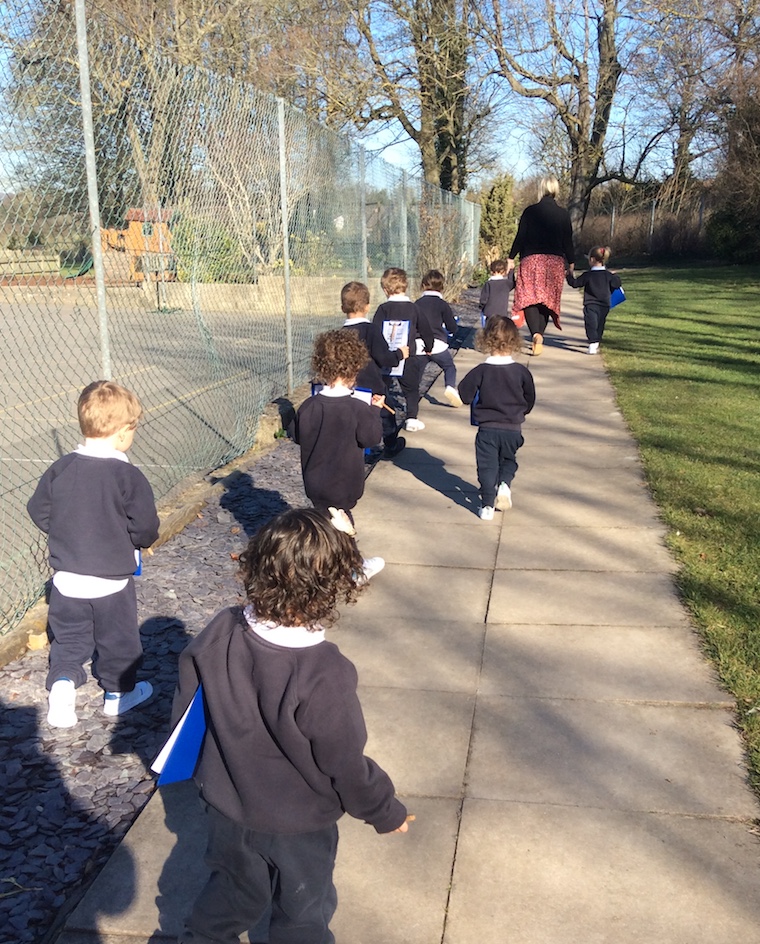 Such amazing listening in Nursery this week when the children listened to the number of beats of the names of the animals in our story Tanka Tanka Skunk. They used the claves to tap out the number of beats they could hear and they tapped out the beats in their own names too.
On our listening walk around school, the children were armed with their own clipboards and pens to mark off each sound they could hear - we visited the Robins where we could tick two boxes for hearing children playing and singing! The only sound we did not hear was a dog barking, even though Mrs Bennett and Mrs Sayers were doing their best 'woofs'!
We all made the most of the beautiful sunshine this week and now have the cleanest and sparkliest play house in Otford! It has been washed several times using lots of bubbly water with very enthusiastic window cleaners. Fabulous team work!
The dolls have enjoyed bubble baths and hair washes and the children filled and emptied containers as they explored measuring. We visited the playground for some super physical skills like climbing, sliding and balancing.
The children used cutting skills to create their own puzzles using rulers to make straight lines, For our book day assembly, the children chose their favourite stories and all said a few words to the rest of Pre-Prep about their favourite illustrations and characters - super confident children!
We were lucky to listen to a lovely song called Serenade played for us on the guitar by a Form 7 pupil - she even let the children have a strum and pluck on the guitar!
The week would not be complete without the daily hunt for the super hero gloves, which involves emptying the dressing up box to find four gloves - again fantastic team work!