Banana split!
14 Mar 2019
Transition worked in groups against the clock to reconstruct a banana that had been cut into pieces.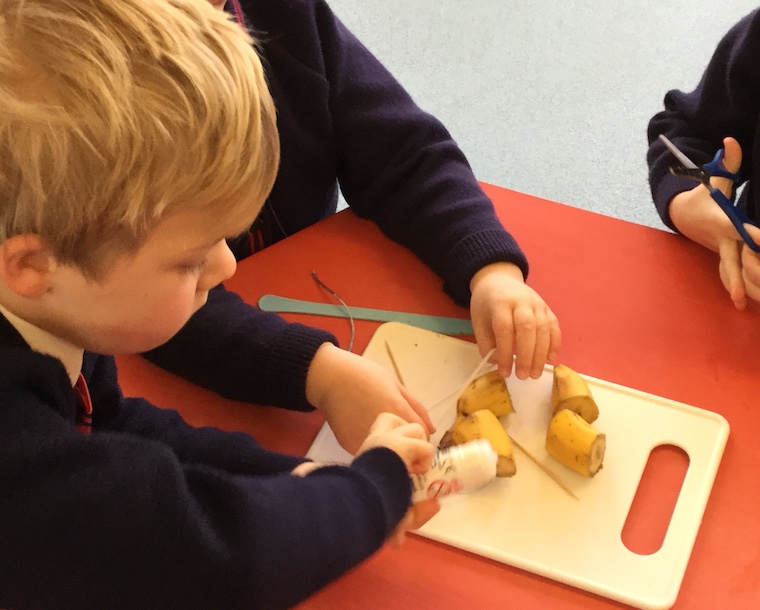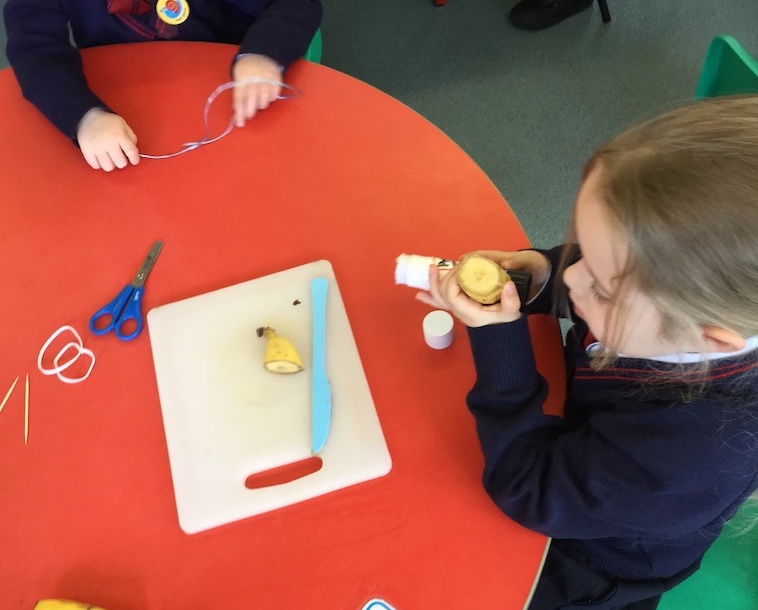 With our current science focus slotting not just into Science Week in school but also British Science Week, Transition have definitely felt like part of a bigger picture this week!
Our enthusiastic scientists started the week by going on a visit to the school Science Lab. Here, we had a quick look at the exciting environment and met Mrs Carn, who showed us her special lab coat and explained why she wears protective goggles when carrying out experiments.
Continuing with the school Science Week theme, many of our activities and experiments this week have involved bananas! From painting banana shapes, using a variety of resources such as paintbrushes, fingers, paint rollers, printing using paint on bubble wrap and even washing-up brushes, we have gone on to look at the letter sounds contained in the word banana. The children noticed that there are an amazing three 'a's! We contemplated how strange the word would be, if we were to remove those letters and sounds......Bnn!
Our first experiment of the week saw us thinking about how quickly a bunch of green bananas might ripen, if left in different places, but of course, well out of Mr Monkey's reach! The children suggested placing one in the fridge, one in our toy cooker, one in the dark in a box, etc, so now we have seven bananas strategically placed around the classroom.
Observational skills are now being used to look for changes in the colour of the banana skins each day and much discussion about bananas has ensued at snack time. Now that brown flecks and patches have appeared on some, we are going to start to add the same colour onto our painted bananas.
By far the most thought-provoking activity this week was our banana split. In small teams, the children started by cutting their banana into four parts. Provided with a glue stick, string, elastic bands, cocktail sticks and sticky tape, their challenge was to work together to re-construct their banana in five minutes!
It was incredible to see the children working as part of a team, listening to one another's ideas and trying to work things out. Although using cocktail sticks and glue appeared to be the most effective method, an idea of threading the banana pieces onto string was very inventive, even though it proved difficult to execute. We were definitely nurturing problem-solvers of the future.
Our 'dancing raisins' experiment was entertaining, as we watched the raisins dancing up and down in the carbonated water and we have also seen some very creative constructions with magnetic rods and balls during another week of science and exploration in the classroom.
I thought too that I might share with you some photos of the children in action during our bookmark hunt out on The Paddock last Friday, to mark the end of Book Week. What a busy and varied fortnight we have enjoyed!