Nurturing our green fingers
02 May 2019
From planting rocket to sowing sunflower seeds, everyone has been busy.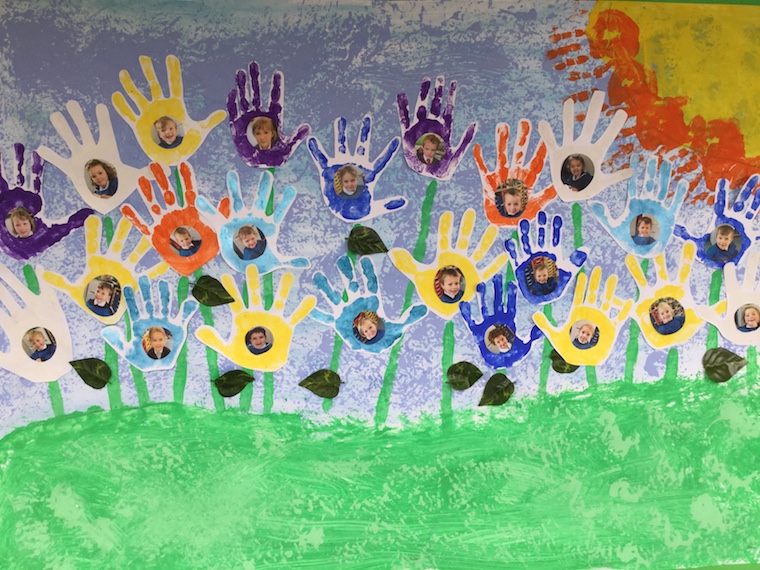 As you drop off your children to the classroom in the morning, please do take a moment to look at Transition's spring art display in the entrance lobby. It's guaranteed to cheer you as you see how hard the children have worked to create their spring garden painting, full of colourful hand print flowers, each bearing the children's smiley faces.
Our Garden Centre/Nursery has gone into busy production this week, as the children have helped to earth up our already healthy looking potatoes (we are hoping for a bumper crop this year!) From planting rocket seeds, which one of the children kindly brought in, to sowing sunflower seeds, everyone has been busy. Mrs Nelson showed the children how to create wonderful little planting pots from newspaper, really helping to save the planet. Of course, the children were very excited to tell her what seeds actually need in order to grow, all the while extending their gardening knowledge and vocabulary.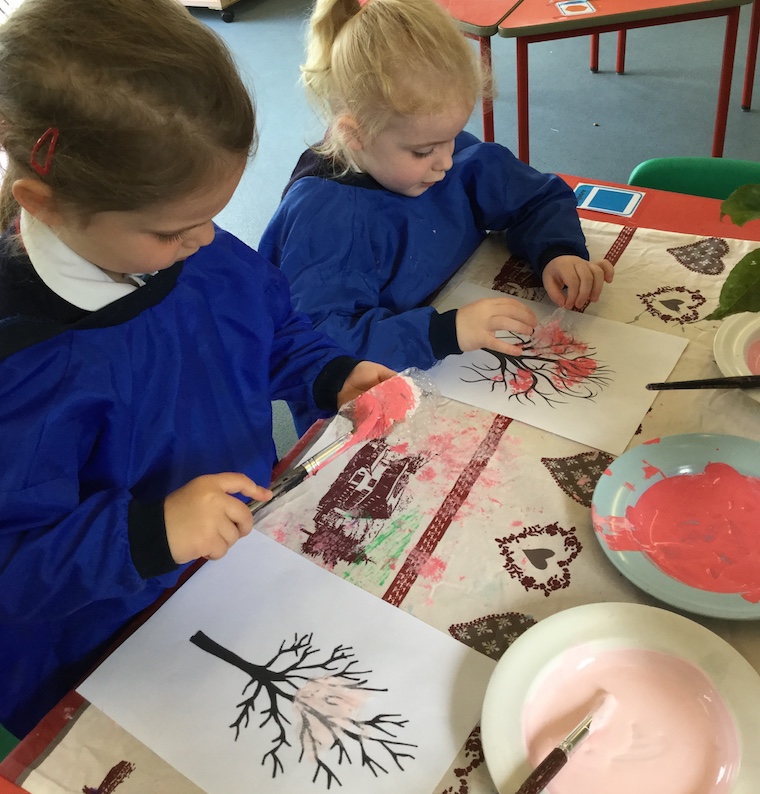 Inspired by the beautiful cherry blossom we can see currently around the school grounds, the children have created their own pretty trees bearing blossom, using paint on bubble wrap which they have printed onto tree outlines. Some even used cotton buds to add little touches of red paint to depict the tightly closed buds on the blossom, to good effect.
We have learned a new song called It is springtime, winter's gone and another entitled Little Arabella Miller, found a woolly caterpillar, to coincide with the exciting arrival of our class caterpillars on Monday!
Counting skills have developed this week, as the children have matched the miniature bees and ladybirds into the Numicon number formations, and also during class activities in The Hub. Here, we used the computers to complete tasks involving the counting and matching of dots on ladybirds and playing giant dominoes. Don't forget that our maths games packs will come home again on Friday, so I shall look forward to hearing how the children have beaten their parents and siblings after the Bank Holiday weekend!
Sharing a story together, while sitting in the wonderful spring sunshine on the green, listening to the birds and looking at the blossom, certainly made everyone realise what spring is all about and why it is such a special season!