Measuring up
10 May 2019
The Builders' Yard is open for business in Transition.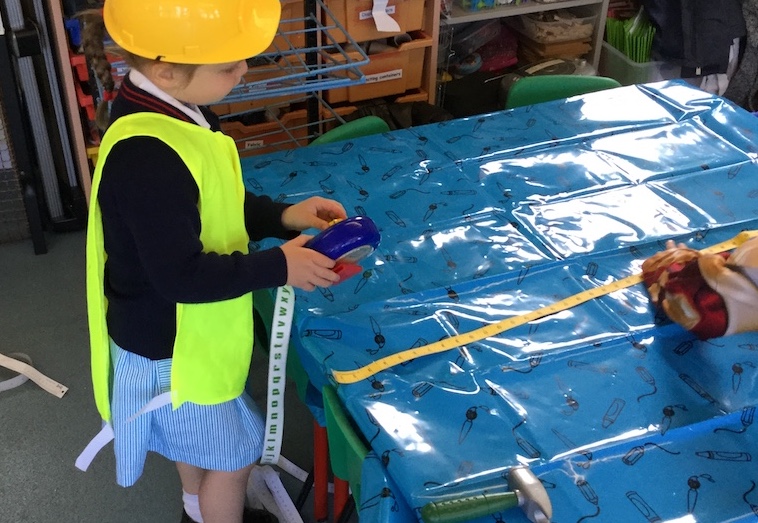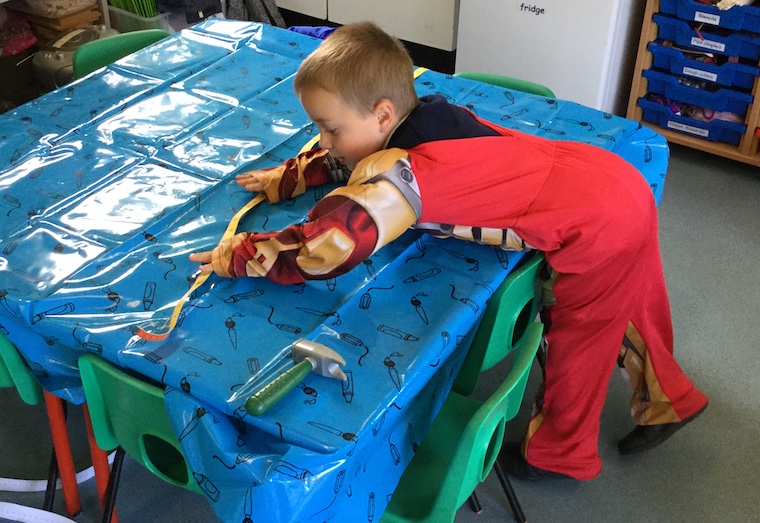 Construction has played a major part of our week in Transition, with a brand new Builders' Yard opening for business in the classroom. Although we haven't made it to Checkatrade yet, the Transition tradespeople can certainly help and advise with any building projects you may wish to undertake.
The children have been using the builders' tools, tape measures and rulers and some have even drawn up plans on graph paper. Much designing and creating has ensued, with children choosing to use the wooden bricks, Stickle Bricks and small Lego.
In anticipation of our exciting and imminent visit to Lullingstone, Transition have ventured 'into the woods' this week. There's nothing like experiencing things first hand, so we took the opportunity, when it wasn't raining, to venture down to the Paddock, walking through the woods to the outdoor classroom. Here, we enjoyed the story of Goldilocks and the Three Bears and learnt a funny rhyme to complement the story.
All this talk of Goldilocks has got us thinking about who and what else we might find in the woods! With ideas ranging from butterflies to bugs and mice, the children also suggested Peter Rabbit and The Gruffalo! I am really excited to follow their path into the woods, to see where our learning might take us.
As spring moves on, the children have learned how to plant up our pots to brighten the garden fence and how to take care of the plants. Our ever-expanding, furry caterpillars are continuing to stimulate curiosity, while the children have been comparing printed caterpillars and ordering their sizes. Painted spots have been added to ladybirds to correspond with numerals, and petals added to flowers too.
Great fun was had in PE when we played the dragon's tail game. Everyone held onto the shoulders of the person in front of them and, once positioned, the dragon's head had to chase its tail... without falling over!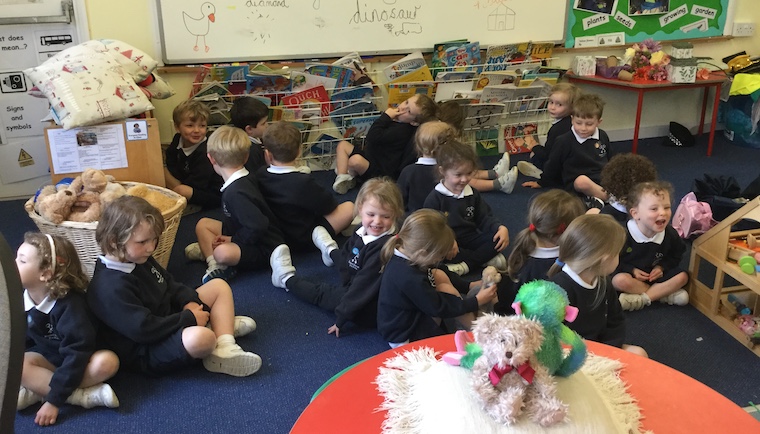 I just had to round off the week by sharing this lovely picture of the class sitting 'back-to-back', inspired by our two toys who were sitting the same way, to listen to the story of Monkey Puzzle!