Our mini-beast hunt
20 Jun 2019
The Robins have been using magnifying glasses as they seach for bugs.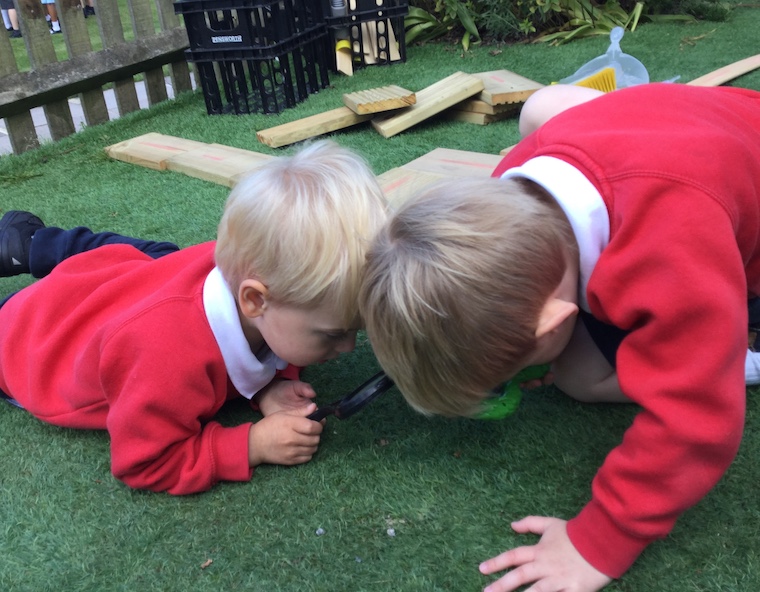 Our little Robins have thoroughly enjoyed our mini-beast topic this week. They used the mini-beast lanyards and magnifying glasses to find bugs and it was great to see the children working together to identify the different creatures.
Mrs Warner decided to add a little more colour to the garden, so she attached coloured ribbon and rope to the trellis. This was absolutely fantastic for the children's fine-motor control as they used both hands to thread the material through the holes - well done, Robins!
We had some lovely visits this week from Form 5, who joined us to play. Our Robins love their visits and it's great to see the older children looking after our little ones.
We had a delivery of new materials this week and the children liked playing with the bobbly play foam. They used the metal cutters to make biscuits and the paper cases for cakes. Mrs Warner also bought some hoover parts to use in the rice tray. This was fun and provided us with some rich learning experiences.
A couple of Robins enjoyed spending time in the mud kitchen. They used fallen apples from the tree, sticks and stones to create a yummy soup! Finally, we had lots of fun on French Day. We tried some yummy croissants and pain au chocolat - Ooh là là!