Tournament win and match reports
21 Sep 2018
It's been a great start to the term on the sporting front.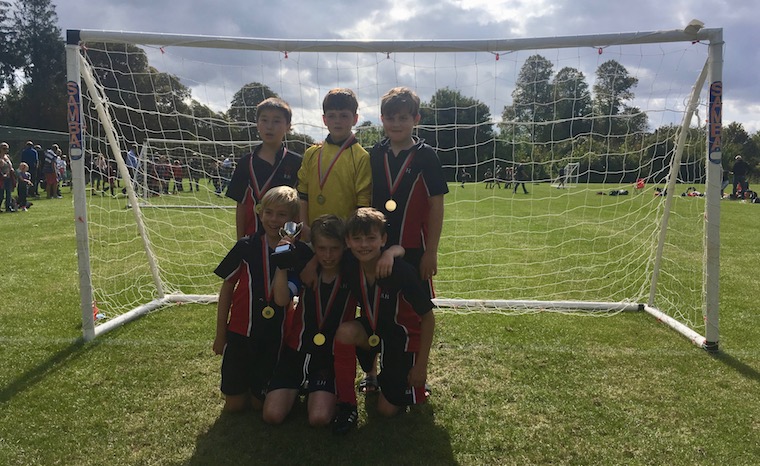 The U11 boys' football team entered a 5-a-side competition at St Michael's last Saturday. The previous year the team (as U10s) had won the tournament, so spirits and expectations were high.
They started well with a 4-0 win over Rose Hill, before coming up against St Michael's who they had beaten last year. Louis scored a fantastic goal in the top right corner from outside of the box, but the opposition rallied and drew level. Despite chances for both teams the game ended 1-1. Russell House went on to win the last two pool games 1-0 against New Beacon and 2-0 against Hazelwood before playing their semi-final against Hilden Grange.
During the semi-final, the boys played their best football and were 4-0 up in 4 minutes. Their movement and passing was superb and the win put them through to the final against a strong Yardley Court team. The effect of playing 5 games was beginning to show with passes coming up short and the team relying on some desperate covering defence to thwart the opposition's attacks. In the end, Russell House scored the solitary goal in a great match and the boys had successfully defended their title.
Well done to Oliver, Peter, Sammy, Louis, Josh and Forbes.
Match reports
Hockey Mixed U10/U11A v Hazelwood
On Wednesday 12th September, Russell House's under 11A girls team went to Edenbridge Leisure Centre to face Hazelwood. It was an exciting, but tense game. We all tried our very best, with some great defending and attacking, which gave us a result of 0-0. So well done to Russell House u11As!
By Sophia
Hockey Mixed U10/U11B v Hazelwood
On Wednesday 12th September, Russell House had a match against Hazelwood. We had a great win of 6-1 to us (The B team). The goal scorers were: Anna who scored 2 goals, Lucy who scored 3 goals and Ellie who scored 1. I was captain and I was centre midfield with Ellie on the left beside me and Mia took the pushbacks. Our team demonstrated good defending and Abbie, Bardot and Annabelle saved lots of goals.
by Florry
Hockey U10 v Hazelwood September 19
On Wednesday 19th September Form 6 played their second match against Hazelwood School. We started confidently and got early possession of the ball. With some good tackling and passing we gained an early lead of 1-0. Unfortunately Hazelwood scored two more goals and at half time the score was 2-1 even though Bardot had done some excellent defending.
Mr Joseph encouraged us to keep fighting and we were ready for the second half. We started to pass the ball better and we quickly equalised, 2-2. We took the lead but unfortunately Hazelwood equalised at 3-3. It was unfortunate our last goal wasn't allowed but we all tried really hard and it was a great result. Well done girls!
By Lucy
Hockey U9 v Rose Hill
During our match at Rose Hill we lost 3-4 but it was very close. Matilda scored the first and second goals and Alice scored the third. Isabella was really good in her defending position. I was very close to scoring a goal, but needed to hit that ball a bit harder. We worked really well as a team and we have all improved a lot since Form 4. I'm very proud of our team - well done.
By Maisy
Football U9 v Solefield
Thursday's away match at Solefield resulted in a 4-1 victory to them despite some excellent play from Russell House. Alex played very well and always got himself in space so he was ready to receive the ball. Later on, he ended up in goal and made a fantastic save too! Eashar scored the solitary goal for Russell House and we were leading for much of the first half before Solefield rallied.
Hockey U8 v Rose Hill
Thursday was our first match in Russell House Form 4 playing hockey. It was a really exciting match even through we did not win. Martha scored a great goal. After the game, we went for a match tea with the players from Rose Hill. I really enjoyed being captain for the day and all of the girls in Form 4 can't wait until the next match. Thank you to all the parents who came to support us.
by Megan
Football U8 v Solefield
Thursday's game was our first match for Russell House at football. We played against Solefield School. It was a brilliant match even though we didn't win. I really enjoyed being captain for the day and really enjoyed match tea. All of the boys are looking forward to the next match. Thank you parents for coming to watch.
By Oliver