Inspirational art (and Maths!)
26 Sep 2018
Creative abundance has been in evidence from Form 7 this week.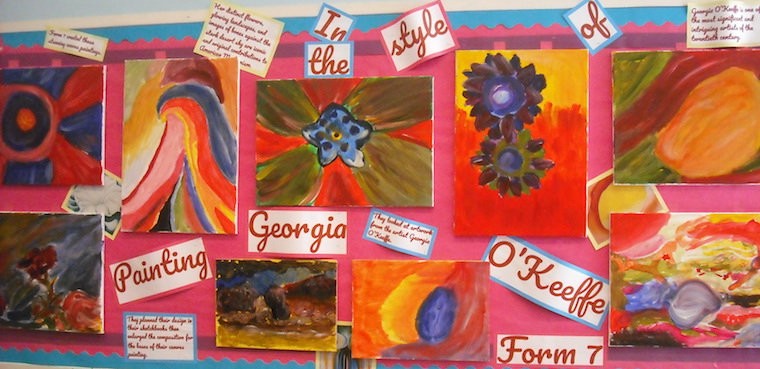 The class is continuing their study of the Titanic disaster and they have become roving reporters. Imagining that they were working at a newspaper in 1912, their task has been to write a newspaper article about the event. They have used Google to further their research, find authentic newspaper headlines from the time and invent believable eye-witness accounts. They have enjoyed honing their computer skills, formatting into columns, inserting pictures and captions and experimenting with fonts.
In Art the class have created some super canvases in the style of the artist Georgia O'Keeffe, an American painter who is best known for her close-up paintings of large, colourful flowers. She was recognised as the 'mother of American modernism' and was highly thought of in her time.
In maths lessons we have been exploring various pond designs and the mathematical relationships between the surface of a pond and the number of tiles needed to go around it. This has involved using several different computer applications, Google Classroom and spreadsheets to create graphs (see pictures below). Creating triangular ponds was particularly challenging and our next step there is to explore the graphing possibilities in pursuit of an algebraic expression or two.
A slightly belated congratulations to the U11 indoor football champions for their performance in the tournament at Sevenoaks School at the end of last week.
Finally, a reminder that it is Harvest Festival on Wednesday at 9am. Form 7's donations this year should be tinned spaghetti/baked beans with sausages which will be gifted to the charity Loaves and Fishes.