Falling into Autumn
28 Sep 2018
Transition have been finding lots of signs of Autumn around the school grounds.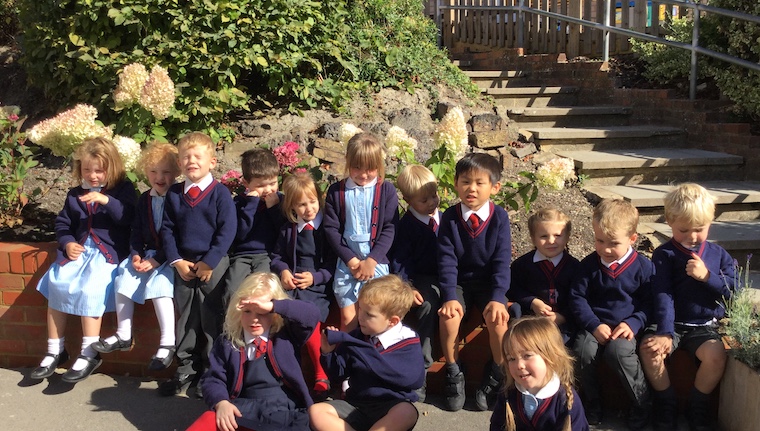 With central heating no doubt being switched on by many at the weekend, followed by early morning frosts and mists and yet delightfully warm, sunny days at school, Transition have been able to really embrace and experience the onset of Autumn this week.
We just had to 'seize the moment', so we took a leisurely walk into the early morning dew of the Paddock one morning, armed with our individual 'collecting pots' to experience Autumn up close! The children surprised us with how knowledgeable they were about aspects of nature and they took great delight in collecting a variety of natural resources, such as crispy leaves, mossy twigs and brown, papery 'helicopter' sycamore seeds to bring back to class. We hope to do this again over the next few weeks, so that the children can really experience and appreciate the changes that Autumn brings.
The children have been intrigued by handling and weighing various autumnal items too, such as colourful squashes, conkers and pine cones, so the balancing scales have been in action too this week.
Finger Gym has seen the children using tongs to develop their fine motor skills, both by extracting tiny seeds from hollyhock seedpods and by using them and chopsticks to hook up toy spiders.
Our Cows in the Kitchen Autumn song has certainly kept the children amused, especially when we sing about sheep in the shower and the like. Of course, we have also been busy practising for next week's Harvest Festival.
A game of whole class giant dominoes in The Hub was great fun and the children were keen to continue this learning in the classroom too, all of which will help them become comfortable with dice patterns. So do be prepared when you join in with any Maths Games with them at home now....the children are becoming more comfortable and competitive by the minute!
An impromptu class photo opportunity in the sunshine just had to be taken too this week, just in case the weather should change! Our fingers are crossed for another glorious week to come!