Sports reports
28 Sep 2018
Hot on the heels of the St Michael's tournament win, our U11 footballers have added a second victory.
Our U11 boys are celebrating a second tournament win following the 5-a-side indoor Futsal tournament at Sevenoaks School. Six schools competed and the most successful team over the five 'group' games was crowned champion.
Russell House U11 narrowly lost their opening game to St Michael's 3-1, but then set about defeating their next opponents, Radnor House, 2-0, Solefields, 4-0 and Yardley Court, 2-0. They completed their set of matches with a closely fought 0-0 draw with St Ronan's.
Russell House U11 won the tournament by a single point ahead of St Ronan's. Louis was awarded the player of the tournament trophy, for which Sammy was also shortlisted.
Our U9 team competed in a similar tournament for their age group, drawing four games and losing one to finish fourth in their group.
Well done boys!
Match reports
Football Mixed U10/11A v Steep Hill
We played very well because we passed a lot and even sometimes passed the ball back. Our midfield was very good because they tackled the players before they had a chance to pass and we also intercepted the ball before they had a chance to move. I can't say much about our defenders because they didn't need to defend. We won 10-0. I think we could have done quicker passes but other than that I think we were great. I really enjoyed playing and I think the rest of the team did as well.
By Reuben
Hockey Mixed U8/9 v Lingfield
On Thursday Russell House played an away match at Lingfield. We were better at keeping spaces this week and sticking to our spaces. Martha and Ellie had lots of good attacking runs and Annabel stopped lots of balls in defence. Everyone in the team worked hard although unfortunately we lost 4-0.
By Annabel
Football Mixed U10/11B v Hilden Oaks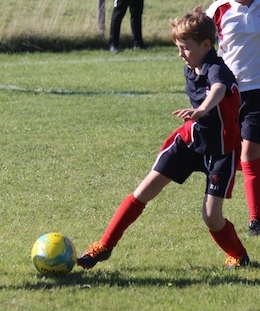 On September 26, Russell House played a football match against Hilden Oaks and won 6-0. We played really well and I started in right mid field. I think Reuben should be man of the match because he kept on going and was always there to be passed to. He also had really good defending and good sportsmanship.
At the start of the game Elliot kicked off, Barney got the ball and passed to Edward. Edward ran up the pitch and passed to me. Then I shot and scored. Hilden Oaks took their centre kick and Elliot was soon on them and tackled. They started to defend and there was a bit of a huddle around the ball. Later, Edward got the ball and scored and we added another to make the score 3-0. After half time, the opposition started stronger, but we kept tackling until Elliot scored to make it 4-0. Reuben added another and then got a sixth goal just before the whistle blew.
By William