Art attack!
10 Oct 2018
Hedgehogs, musical instruments, puppies and performance - what a week Transition have had!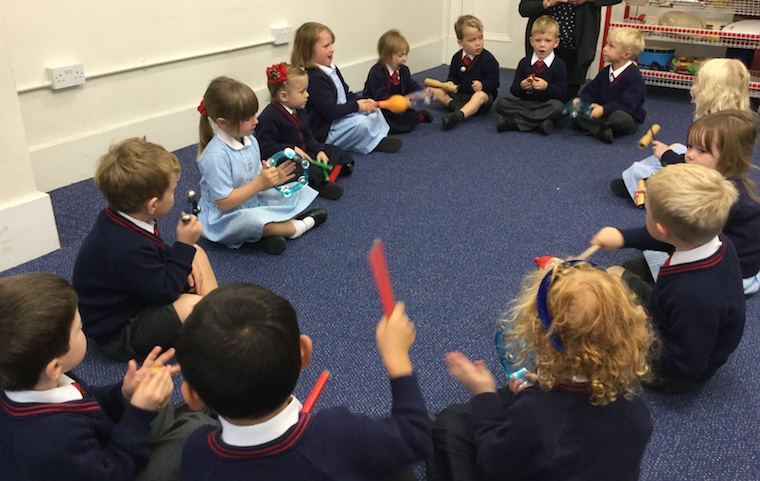 Expressive Arts and Design takes many different forms and permeates right through Pre-Prep and beyond at Russell House. It has most definitely been a big feature of this week in Transition, as you will see!
The Pass the Instrument game in our Music lesson was great fun and a great opportunity for us all to experience a wide range of unusual musical instruments. We enjoyed practising playing them quickly and slowly and to the beat.
A new addition to one of our children's families last weekend, in the form of a very cute puppy, inspired lots of role play this week caring for our class puppies, with dog-walking, careful grooming and feeding of the pets taking place in the classroom.
As part of our current theme of Autumn, the children have shown lots of interest in our autumn table, where they have been handling conkers, acorns, leaves and pine cones. With a special focus this week on hibernation, we have seen lots of design and construction of homes and habitats for our woodland creatures. Mrs Nelson and I have loved observing the children modifying their designs so that they are 'fit for purpose' for the different animals!
Telling the stories of The Lost Acorns and The Very Helpful Hedgehog using props has really fired the children's imaginations and supported their confidence for creating their own hedgehogs with clay. They manipulated the clay with their fingers and used a variety of implements.
In addition, some children have amazed us with their graphic art designs, which they created independently on the computers in The Hub this week; all of which we think are worthy of a frame!
The whole class had the confidence to perform in our Pre-Prep assembly this week too, when they proudly showed examples of their lovely work and taught everyone the Five Little Plankton rhyme!
Other activities have involved honing our ball skills in PE, working in the Finger Gym using the pegs and matchsticks to add prickles to the hedgehogs, using tongs to separate dried pasta and beans from a large sorting tray and going on a Magical Mystery Tour around the school grounds. I wonder if the children will remember to tell you where we went!!