Pumpkins, percussion and plants
18 Oct 2018
Transition have been potting up violas to bring some colour to their garden.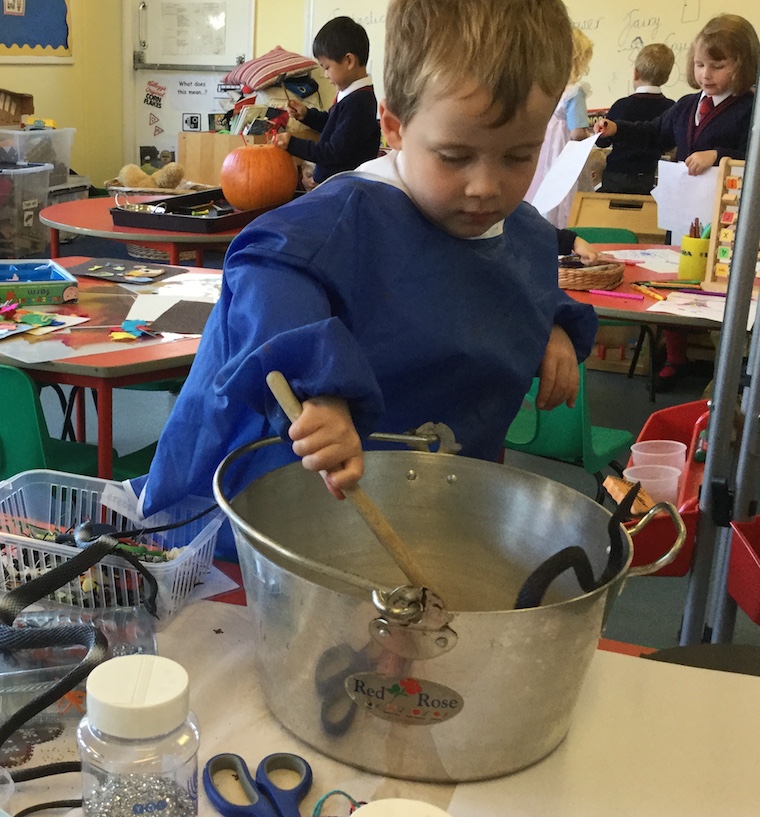 Scooby-Doo, witches and all manner of ghoulish characters appeared in Transition last Friday, in readiness for the party in the afternoon. Thank goodness we had a brave knight amongst them all, who kept Mrs Nelson and I safe during the morning!
Reading Room on the Broom, which two children kindly brought in, added lots of atmosphere to our morning and invited different spells to be made. The children have gone on this week to create their own Witch/Wizard Brew, stirring snakes, eyeballs, spiders and bugs in the big cauldron.
Our autumn theme has been continuing in the background and as well as thinking about nocturnal animals, we have been enjoying lots of activities with our pumpkins. We have compared their sizes, measured their circumferences and pushed pins into their skins, around which we stretched rubber bands. We also used the hammers to tap in golf tees to make holes and then fixed Mr Potato Head body parts to the pumpkin to create interesting characters.
Planting up our pots with violas and making music with our wonderful percussion instruments in the autumn sunshine have been lovely activities enjoyed outside, while more colourful graphic art has been produced on the computers in The Hub.
We look forward to seeing you at our Pre-Prep Coffee Morning this coming Friday and, in the meantime, Mrs Nelson and I should like to congratulate the children for all they have achieved this half term, as they have all worked so hard, and to wish everyone a lovely half term break.